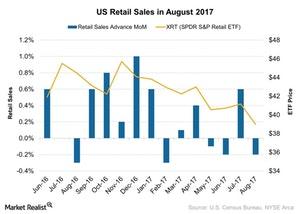 US Retail Sales Dropped: How Will It Affect the S&P 500 Index?
US retail sales in August
According to data provided by the U.S. Census Bureau, US retail sales fell 0.2% in August 2017. Markets expected a 0.1% rise. Retail sales showed a sharp improvement of 0.6% in July.
Article continues below advertisement
Components of retail sales
The weaker retail sales in August were mainly due to weaker auto sales. Auto sales dropped nearly 1.6% in August 2017 mainly due to Hurricane Harvey. Retail sales excluding auto sales rose 0.2% in August 2017. Furniture and home appliance sales rose 0.4%, food and beverage sales rose 0.3%, and gas station sales rose 2.5% in August 2017. However, sales in non-store retailers dropped 1.1% during the month.
Impact on the market
The S&P 500 Index (SPY) has shown a strong improvement in the past months. On a year-to-date basis, the index returned nearly 11% as of September 20, 2017. The marginal improvement in some economic indicators and the expectation of huge reforms in the economy (VOO) helped the index move higher.
However, the index showed marginal improvement in August 2017. The index tumbled marginally in August due to increasing tensions between the US (SPY) (IWM) and North Korea. The fall in retail sales and other economic indicators might hurt the performance of the S&P 500 Index.
In the next part of this series, we'll analyze US inflation in August 2017.