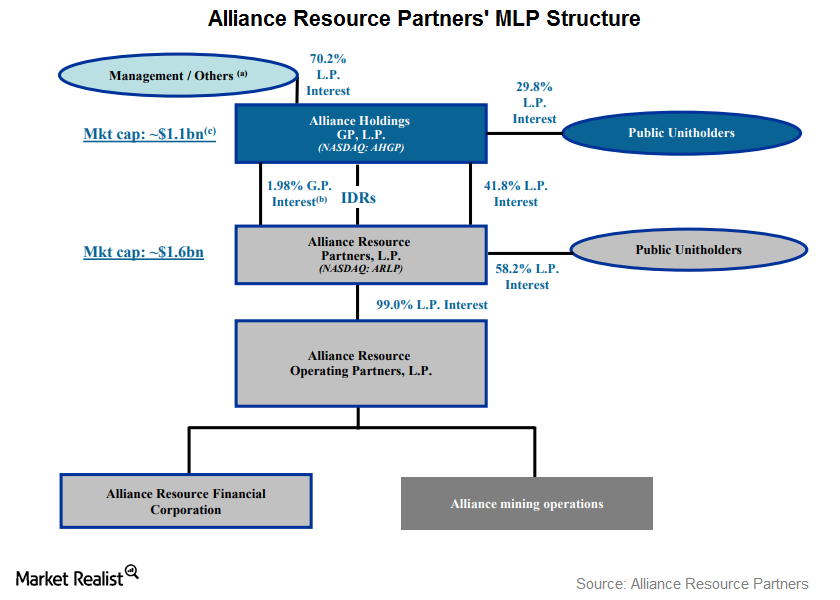 Understanding the Master Limited Partnership Structure of Alliance Resource Partners
A typical MLP structure
An MLP (master limited partnership) has one or more GPs (general partners) and thousands of limited partners or unit holders. Limited Partners hold publicly traded units, while the GP manages the partnership and, in general, has a ~2% ownership stake in the partnership.
The limited partners provide capital but don't play any role in managing the partnership. They receive quarterly cash distributions, while the GPs may hold IDRs (incentive distribution rights).
Article continues below advertisement
ARLP's MLP structure
As of December 31, 2016, Alliance Resource Partners (ARLP) was being managed by its MGP (managing general partner), which is 100% owned, directly and indirectly, by AGHP (Alliance Holdings GP), a Delaware limited partnership.
AGHP is the owner of 1.98% general partner interest in ARLP, IDR (incentive distribution rights) in ARLP, and 31 million (41.8%) common units of ARLP. The public owns 43.2 million (58.2%) outstanding units.
AGHP does not directly own any cash-generating assets. Instead, it derives its income from its ownership interests in Alliance Resource Partners, and the management owns 0.01% general partner interest in ARLP.
The MLP advantage
MLPs are pass-through entities that don't pay any corporate taxes, thereby lowering their cost of capital. Instead, the unit holders (shares in MLP are referred to as "units," and the shareholders are referred to as "unit holders") of an MLP pay taxes at the individual level.
MLPs help corporations to unlock the value of their assets by exchanging them for MLP common units or IDRs. But not all corporations can form an MLP. According to the IRS (Internal Revenue Service), at least 90% of MLP income must come from activities in specific sources. These include income from activities in natural resources such as mining, oil, and gas, and income from commodity investments and real estate.
Some of the coal-based (KOL) MLPs include Westmoreland Resource Partners (WMLP), Foresight Energy (FELP), Natural Resource Partners (NRP), and CNX Coal Resources (CNXC).
Next, we'll look at Alliance Resource Partners' mining operations.