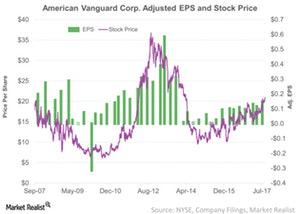 American Vanguard: A Top 10 Agricultural Chemicals Stock
American Vanguard
American Vanguard (AVD) is incorporated as a holding company and has several subsidiaries that serve the agricultural chemicals market around the world. Through its subsidiaries, the company engages in the sale of crop protection products such insecticides, herbicides, fungicides, and soil fumigants.
Article continues below advertisement
AVD's performance
Over the past ten-year period, American Vanguard has risen 22.0% and significantly underperformed the S&P 500 Index's rise of 69.2% over the same period. In the above chart, you can see that the stock took a significant fall in 2008 but recovered and peaked in 2012, only to fall in the following years.
In the recent five-year period, the company has fallen 31.6%, underperforming the S&P 500 Index's rise of 70.3% over the same period. YTD (year-to-date), the stock has risen 7.5%.
To date, the company's dividend yield is almost unchanged at 0.29% over the recent ten-year period.
Looking ahead
American Vanguard's sales are driven by the farm economy, similar to Monsanto (MON), Syngenta (SYT), and FMC (FMC). These companies (MOO) are in their mature growth stage. However, for American Vanguard, rapid growth may come from acquisitions.
For more updates on the agricultural chemicals industry, be sure to visit Market Realist's Agricultural Fertilizers page.