The Key Risks Involved in Arch Coal's Business
Commodity price risk Arch Coal (ARCH) has long-term coal supply agreements for their non-trading, thermal coal sales, hence managing commodity risk for thermal coal and also to a limited extent, through the use of derivative instruments. However, sales commitments in the metallurgical coal market are typically not long-term in nature and are subject to fluctuations […]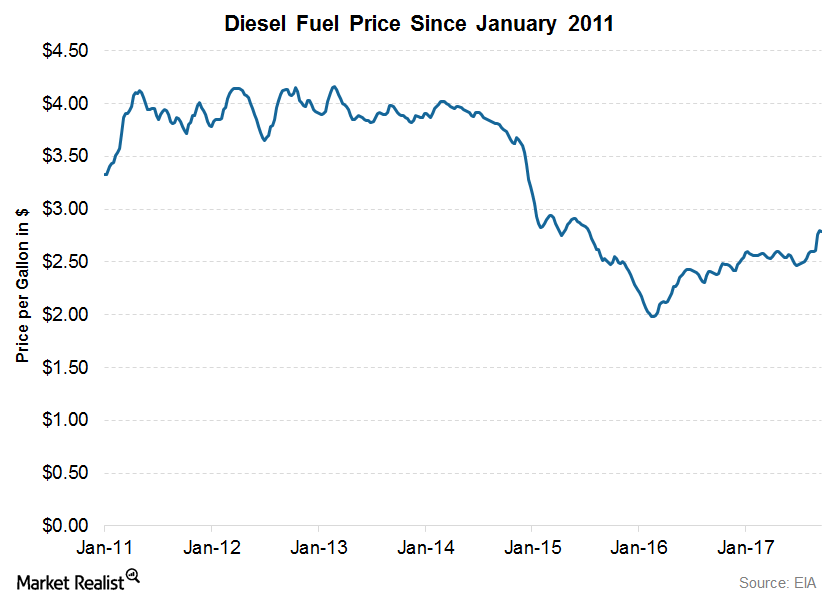 Commodity price risk
Arch Coal (ARCH) has long-term coal supply agreements for their non-trading, thermal coal sales, hence managing commodity risk for thermal coal and also to a limited extent, through the use of derivative instruments. However, sales commitments in the metallurgical coal market are typically not long-term in nature and are subject to fluctuations in market pricing.
Arch Coal uses significant amounts of diesel in their operations. Cash flow is subject to fluctuation depending on the price of diesel.
The firm expects to use approximately 45 million–50 million gallons of diesel in its operations during 2017. Arch Coal's cash flow is dependent on commodity prices.
Article continues below advertisement
Article continues below advertisement
Credit risk
Arch Coal markets its steam coal principally to domestic and foreign electric utilities and its metallurgical coal to domestic and foreign steel producers. On December 31, 2016, its accounts receivable from electric utilities of $96.0 million and accounts receivable from sales of metallurgical-quality coal of $88.0 million represented 52% and 48% of total trade receivables, respectively. Arch Coal's credit risk is primarily related to both domestic and foreign electric power generators and steel producers.
Credit risk is a common risk among many coal (KOL) producers, including Peabody Energy (BTU), Alliance Resource Partners (ARLP), and Cloud Peak Energy (CLD).
Apart from the above factors, any changes in fuel consumption patterns by utilities, as well as unfavorable economic and market conditions, could also pose a significant risk to Arch Coal's business.
Next, let's look at the factors that could drive Arch Coal's stock in the future.