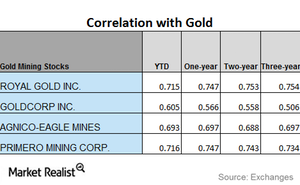 The Correlation Analysis of Miners through August 2017
Correlation among miners
In the final part of this series, we'll look at the relative performance of miners with precious metals. A correlation analysis can give us an overview of mining stocks' price movements and how closely they are tied to changes in precious metal prices.
In this part of the series, we'll see how variations in Primero Mining (PPP), Silver Wheaton (SLW), Coeur Mining (CDE), and Barrick Gold (ABX) correlate with gold.
Article continues below advertisement
Correlation trends
Silver Wheaton has seen the highest correlation with gold, while Barrick Gold has the lowest correlation. Among these four miners, Silver Wheaton, Primero, and Barrick Gold have seen an upward trending correlation with gold.
A rise in correlation shows that a price change in gold could cause mining stocks to move in the same direction. A fall in correlation suggests that mining stocks could move independently of gold.
Silver Wheaton has a three-year correlation of ~0.70 with gold and a year-to-date correlation of ~0.80. These indicators suggest that the stock has moved in the same direction as gold ~80.0% of the time since the beginning of the year. These correlations can move in different directions at various times.