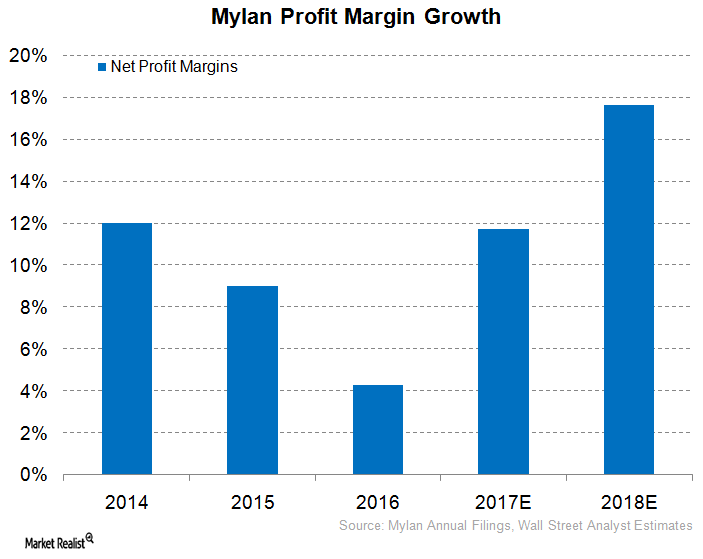 Could Mylan See a Rise in Net Profit Margins in 2017?
Profit margins
In 2Q17, Mylan (MYL) reported gross profit margins of 54.0%, which was lower than 56.0% reported in 2Q16. The fall is attributed to reduced gross profits in North America, partly offset by the positive impact of contributions from acquisitions completed in 2016.
In 2Q17, Mylan witnessed a rise in adjusted earnings from operations by 15.0% on a YoY (year-over-year) basis, despite lower revenues and pricing pressures in its North American markets. That was mainly due to improving sales in the European and Rest of World markets. The company reported total sales of $950.0 million from European markets in 2Q17, which is a YoY rise of 9.0%, fueled mainly by the acquisition of Meda in August 2016. The Meda acquisition and increased sales of new and existing products also drove Mylan's Rest of World market revenue performance to $690.0 million in 2Q17, a YoY rise of 29.0%.
Article continues below advertisement
If Mylan's revenue performances in the European and Rest of World markets manage to offset the negative impact of competitive and pricing pressures in the North American market in the second half of 2017, it could boost the company's stock prices as well as those of the iShares Russell Mid-Cap Value (IWS). Mylan makes up 0.45% of IWS's total portfolio holdings.
Wall Street analysts have projected Mylan's 2017 net profit margins at 11.7%, which is a YoY growth of 740 basis points.
In 2017, peers Akorn (AKRX), Pfizer (PFE), and Novartis (NVS) are expected to report net profit margins of 4.6%, 21.7%, and 14.9%, respectively.
In 2Q17, Mylan saw a YoY fall of 150 basis points in its adjusted SG&A (selling, general, and administrative) expenses as a percentage of total revenues, mainly due to the cost synergies realized due to the efficient integration of its acquired companies.
Resolution of issues
Mylan is witnessing a significant delay in the administrative milestones of the FDA's (U.S. Food & Drug Administration's) approval process for generic Copaxone, which can be attributed to the ongoing reorganization at the FDA. Mylan has also managed to clear up several major factors pointed out by the FDA in its complete response letter for its generic Advair ANDA (Abbreviated New Drug Application). Mylan is actively involved in resolving two major issues raised by the FDA in its warning letter for Mylan's manufacturing site at Nashik, India, with respect to violations of good manufacturing practices. This warning letter has resulted in delayed launches for some products manufactured at that site. The FDA lifted its warning letter for the Agila oncology site in 2Q17.
In the next part, we'll take a look at Mylan's biosimilars program.