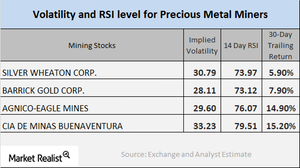 Miners Followed Precious Metals Downhill on September 18
Technical analysis
The price fluctuations in precious metals are often carefully tracked by mining stocks as well. Monday, September 18, was a down day for these metals, and the miners also followed the same route. Before investors consider mining stocks, there are a few technical indicators they should evaluate.
In this final part of the series, we'll look at volatility figures and RSI (relative strength index) scores for four major miners—Coeur Mining (CDE), Barrick Gold (ABX), Kinross Gold (KGC), and Eldorado Gold (EGO).
Article continues below advertisement
Implied volatility
Call-implied volatility measures the changes in the price of the stock concerning the changes in the stocks' call option price. On September 18, Coeur Mining, Barrick Gold, Kinross Gold, and Eldorado Gold had volatilities of 42.3%, 26.4%, 40.8%, and 50.1%, respectively. Mining shares are often more volatile than precious metals.
Relative strength index
A stock's relative strength index (or RSI) shows whether it's overbought or oversold. If a stock's RSI score is above 70, it may be overbought and its price could fall. If a stock's RSI score is below 30, it could be oversold and could correct higher.
The RSI scores for the miners noted above have recuperated recently. Coeur Mining, Barrick Gold, Kinross Gold, and Eldorado Gold have RSI scores of 60.5, 36.3, 54.6, and 62.9, respectively.
Among the mining funds that receded on September 18 due to the decline in precious metals, the VanEck Vectors Junior Gold Miners ETF (GDXJ) and the iShares MSCI Global Gold Mining ETF (RING) fell 2.2% and 2.7%, respectively, on the same day.