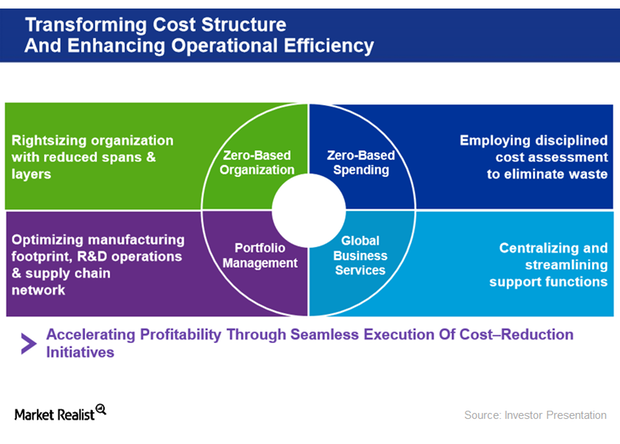 Management Changes at Baxter International: What You Should Know
Key management changes
Baxter International (BAX) has been going through a cost transformation and reorganization process for some time. The initiative includes some leadership and management changes over the past few months. The reorganization is aimed at strengthening the company's market position and achieving its goals for 2020 and beyond. The diagram below shows the company's strategies to accelerate cost transformation and operational efficiency.
Article continues below advertisement
Article continues below advertisement
Paul Vibert, corporate vice president and president of international at Baxter, retired in May 2017. He had been with Baxter since 2008. Along with this management change, the company has been going through the process of simplifying its geographic structure. Baxter's business is now divided into the following three geographical regions:
The Americas – North and South America
EMEA – Europe, the Middle East, and Africa
Asia Pacific
In May 2017, Brik V. Eyre was appointed president of the Americas region. He was serving as president of Hospital Products at Baxter before assuming his current position.
On September 1, 2017, Cristiano Franzi joined Baxter International as president of EMEA. Prior to joining Baxter, he worked for Medtronic (MDT) as president of the Minimally Invasive Therapies Group, EMEA. In the past, he has also held a number of roles across EMEA with peer companies Boston Scientific (BSX) and Becton Dickinson (BDX).
Since May 2017, Giuseppe Accogli has been given an expanded role in the company and is now Baxter's senior vice president and president of Global Businesses. Prior to that, he was corporate vice president and president of the company's Renal business.
Sumant Ramachandra joined Baxter International in June 2017 as chief science and technology officer. He previously worked for Pfizer (PFE) as senior vice president and head of R&D (research and development).
Could these management changes bring new growth dynamics?
Recent management changes and reorganization are in line with the company's strategy of creating a more focused, leaner organization with strength across its core capabilities. It's focused on accelerating toward its goal of establishing the company as an industry leader. The company expects new management to bring the necessary changes and operational efficiency to its businesses with a focus on cost optimization and high margin businesses as well as disinvestment in unprofitable business lines. The expertise and relevant experience of the new management are expected to accelerate the company's goals and help fulfill its targeted growth from 2017 through 2020 and beyond.
To participate in Baxter International's growth, investors can take diversified exposure to the company by investing in the iShares MSCI USA Minimum Volatility (USMV). USMV holds ~0.68% of its total holdings in BAX.