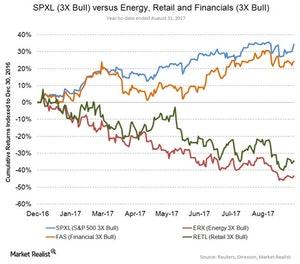 How Did Markets Fare in the Summer of 2017?
Direxion
The haves and have-nots
Summer is almost over. And in addition to buying new pencils, rulers, backpacks, and Trapper Keepers for their kids, investors will get back to work after Labor Day looking for new investments. To be sure, 2017 has been a year of haves and have-nots with market sectors heading in different directions. Clearly, some of the winners will keep running into year-end—but in this piece, we'll look at some of the sectors that haven't done so well recently and that may be in the bargain bin for our back-to-school shopping spree. They're a mix of year-to-date losers and solidly performing sectors that have just had a bad run recently. Of course, oftentimes the losing stocks stay losers in the short term. But we aren't trying to make predictions.We're just giving you the tools to look for a reversal into the end of the year or even to keep playing a trend.
Article continues below advertisement
The sectors we'll look at have beaten up pretty good recently (or all year). We'll focus on retail, energy, banks, and transportation stocks. The S&P500 has done well along with financials while transportation and energy stocks have done worse, as you can see in the chart below. Note that TPOR (Transportation 3X Bull) isn't represented in the chart since it launched in May.
The performance data quoted represents past performance. Past performance does not guarantee future results. The investment return and principal value of an investment will fluctuate. An investor's shares, when redeemed, may be worth more or less than their original cost. Current performance may be lower or higher than the performance quoted. Returns for performance under one year are cumulative, not annualized. For the most recent month-end performance, please visit direxioninvestments.com.
Market Realist
How did summer months turn out for the market?
Summer months have a tendency to be unfavorable for the stock market. Empirical evidence has shown that average returns for the S&P 500 are negative during summer months. However, this year turned out to be fruitful for the US stock market. Since the presidential elections, the stock market has been surging on expectations of a stronger economy, lighter regulations from the new administration, and a strong jobs report. As of August 31, the S&P 500 (SPY) (SPX-Index) has risen 15% since elections and 10.4% year-to-date. The summer months this year also turned out to be favorable for the market. On average, the stock market has risen 0.64% in June, July, and August.
Some sectors in the S&P 500 have flourished this year while others have had a tough time. This series will shed light on the energy, transportation, and financial sectors and how they have fared alongside the S&P 500 year-to-date. The chart above shows the year-to-date performance of the Direxion 3X Bull ETFs for each of the above-mentioned sectors and the S&P 500 as of August 31.
It's clear from the chart above that the S&P 500 3X Bull (SPXL) has outperformed with gains of 34% with the Daily Financial Bull 3X (FAS) catching up with 24% gains year-to-date. Since its inception on May 3, 2017, the TPOR (Daily Transportation 3X Bull) has returned 4.3% year-to-date. The Daily Retail Bull 3X (RETL) and the Daily Energy Bull 3X (ERX) have underperformed year-to-date.
With school starting and the holiday season approaching, let's dig into each of the sectors' performances and see if investors may want to consider them into the fall.