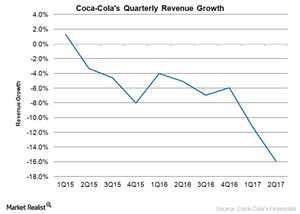 Chart in Focus: Coca-Cola's Revenue Growth Strategies
Downward trend
Coca-Cola's (KO) top line has reflected persistent weakness over the past few quarters. The company exceeded analysts' revenue estimates in the first two quarters of 2017. However, 2Q17 marked the ninth consecutive quarter of revenue decline for the nonalcoholic beverage maker.
In 2Q17, Coca-Cola's revenues fell 15.9% to $9.7 billion. In contrast, rivals PepsiCo (PEP) and Dr Pepper Snapple (DPS) generated revenue growth of 2.0% and 6.0%, respectively, in 2Q17.
Article continues below advertisement
Coca-Cola's 2Q17 revenues declined mainly due to the impact of refranchising its bottling operations. Currency headwinds had a 2.0% adverse impact on the company's 2Q17 revenue growth. Excluding the impact of currency fluctuations and structural items, Coca-Cola's organic revenues grew 3.0% in 2Q17.
Revenue growth strategies
Coca-Cola is taking several steps to improve its revenues. The company is trying to mitigate the impact of weak volumes on revenues by increasing the prices of its beverages. In 2Q17, the company's organic revenue growth was driven by the 3.0% favorable impact of higher pricing as well as product and package mix.
The company is also expanding the reach of its premium products. For instance, the company launched two new premium-priced products under the Minute Maid Pulpy brand in the China region. The two new variants were Minute Maid Triple Pulpy and Flower Flavors.
The company is also promoting smaller packages of beverages as healthier choices. These smaller packages carry higher margins.
Coca-Cola is also boosting its revenues through the innovation of new beverages. In 2016, the company introduced more than 500 products. The company plans to introduce 500 additional products this year.
The company is also expanding the reach of its popular beverage brands. For instance, the company is expanding the availability of its Smartwater brand to 20 markets this year.
We'll discuss the company's strategy for its soda portfolio in the next part of this series.