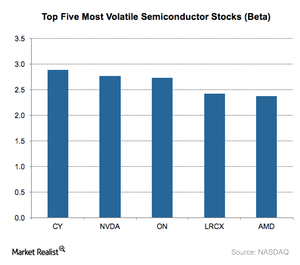 Inside the Top 5 Most Volatile Semiconductor Stocks
Beta
The gap between the market's performance and a stock's performance is called stock price volatility and is measured by beta. A beta of 1.0 is market's volatility, while a beta of greater than 1.0 indicates that the stock is highly volatile, and a beta of less than 1.0 indicates that the stock is less volatile.
Intel (INTC) is the world's largest semiconductor company, and its performance is in sync with the overall semiconductor industry. It's also the least volatile semiconductor stock, though it has a beta of 1.23, indicating that the semiconductor industry is more volatile than the market.
Article continues below advertisement
The most volatile semiconductor stocks 
As of September 12, 2017, Cypress Semiconductor (CY) was the most volatile stock, with a beta of 2.88, followed by Nvidia (NVDA) at 2.77, ON Semiconductor (ON) at 2.73, Lam Research (LRCX) at 2.42, and Advanced Micro Devices (AMD) at 2.37. All these stocks are trading below their Wall Street analyst consensus price targets.
Cypress
Cypress has the highest volatility, as call options are seeing some of the highest implied volatility in this stock. Cypress's stock rose 2% on September 12, 2017, when Apple (AAPL) launched the iPhone 8.
In the past two months, analysts have increased their fiscal 3Q17 EPS (earnings per share) estimates for Cypress from $0.20 to $0.23, representing a YoY (year-over-year) growth of 53%. Analysts have also revised Cypress's fiscal 2017 EPS estimate from $0.71 to $0.81, representing a YoY growth of 65%.
Article continues below advertisement
Nvidia and AMD
Nvidia and AMD have been the most volatile stocks for quite some time as they are among the highest-traded stocks. These two stocks have been highly volatile for the past three to four months, and their stock prices have been growing along with crypto-currency prices, as crypto-currency miners have consumed their entire GPU (graphics processing units) inventory in the market resulting in a supply shortage.
ON
ON Semiconductor is a new entry on the most volatile list, as its better-than-expected fiscal 2Q17 earnings and strong fiscal 3Q17 guidance revived investor optimism and sent the stock up 14.2% in August 2017.
Lam Research
Lam Research has been on a growth trend since the memory market began transitioning to 3D NAND (negative AND) technology. Lam is one of the biggest beneficiaries of this trend because it is a key supplier of memory manufacturing equipment. Over the past year, the stock's price has risen 88%, while the S&P 500 Index has risen only 18%, making LRCX one of the most volatile semiconductor stocks.