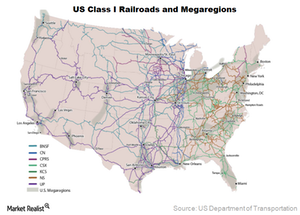 How US Class I Railroad Stocks Have Fared since the Hurricanes
Transportation and US railroads
There are seven Class I railroads (IYJ) in the United States. A Class I railroad is a rail carrier company that had operating revenue of $447.4 million or above in 2016. Though the US transport sector is dominated by trucks, railroads' share of the sector has grown. US freight is hauled by truck, rail, water, air, and pipeline. Rail accounts for ~40% of the ton-miles (the distance freight travels) and 16% of the total tons moved in the United States.
Article continues below advertisement
Class I railroads' stock returns
The past year has been bad for US Class I railroads. Weakness in energy-related commodities, coupled with lower commodity prices, hit the sector hard in 2016. However, beginning in February 2017, things started to turn around for the US railroad industry. Crude oil's rebound, higher coal prices, and President Trump's infrastructure boost pushed railways' engine back onto the fast track.
The freight scenario has been gradually improving year-over-year, although it has yet to reach the strength it saw in 2014. However, the beleaguered railroad industry was pushed back by the recent havoc played by Hurricanes Irma and Harvey. Before we get into the details, let's take a look at railroad stocks' returns in the past month:
The recent hurricanes
impacted rail traffic on the US East Coast, where Norfolk Southern and CSX are key players. Harvey played havoc in Texas and Louisiana. Union Pacific, BNSF Railway, and Kansas City Southern were hit by Hurricane Harvey.
There have been varied estimates of the damages caused by Harvey, from $65.0 billion to as high as $190.0 billion. The highest estimate, by AccuWeather, deems Hurricane Harvey the costliest natural disaster in US history. Moody's (MCO) assessed the damage caused by Irma to be between $64.0 billion and $92.0 billion.