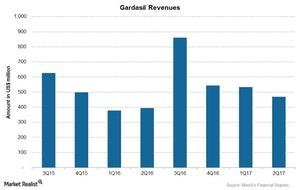 How Merck's Gardasil and Other Human Vaccines Performed in 2Q17
Gardasil franchise
Merck's (MRK) Gardasil franchise includes vaccines for the prevention of certain strains of HPV (human papillomavirus) infections that are sexually transmitted. These HPV strains are responsible for cervical cancers and other HPV-induced infections such as anal, penile, vulvar, and vaginal cancers and genital warts.
The Gardasil franchise reported total sales of $469 million during 2Q17, representing 20% growth in revenues at constant exchange rates, compared with $393 million in 2Q16. These revenues reported growth due to increased sales of Gardasil-9 in US markets. Other vaccines for the prevention of HPV infection include Cervarix from GlaxoSmithKline (GSK).
Article continues below advertisement
Other human vaccines
Merck's total human vaccines reported revenues of ~$1.32 billion for 2Q17, compared with $1.17 billion in 2Q16. Revenue growth was driven by strong sales in the Gardasil franchise as well as of Pneumovax 23, ProQuad-Varivax, and Zostavax. These revenues were partially offset by lower sales of RotaTeq in 2Q17.
Pneumovax 23 is a pneumococcal vaccine that protects from infections caused by germs and bacteria referred to as pneumococcus. Other pneumococcal vaccines include Prevnar 13, a blockbuster from Pfizer's (PFE) portfolio, and Synflorix from GlaxoSmithKline (GSK).
Zostavax is a live attenuated virus vaccine used to prevent herpes zoster infections in adults over 50 years age.
To divest company-specific risks, investors can consider ETFs like the VanEck Vectors Pharmaceuticals ETF (PPH), which has 5.2% of its total assets in Merck (MRK). PPH also has 5.7% in AbbVie (ABBV), 5.7% in Novo Nordisk (NVO), 5.5% in Pfizer (PFE), and 4.7% in GlaxoSmithKline (GSK).