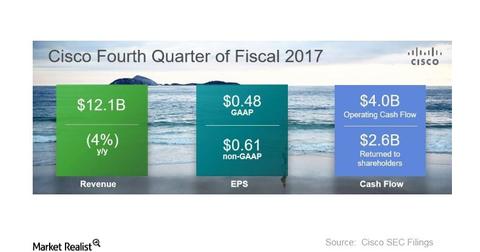 How Cisco Is Creating Value for Shareholders
By Ruchi Gupta

Updated
$9.2 billion released to shareholders
Cisco (CSCO) shareholders get benefits through dividends and stock repurchases. As of the end of the latest quarter, Cisco had returned $100.3 billion to shareholders in the form of repurchases since it introduced the buyback program.
In fiscal 4Q17 (June quarter), Cisco paid out $1.4 billion in dividends and spent $1.2 billion on stock repurchases. Thus, the company's capital return for the quarter was $2.6 billion. For the whole of fiscal 2017, Cisco returned $9.2 billion to shareholders in dividends and stock repurchases. The company has $11.7 billion remaining under its existing repurchase authorization.
Article continues below advertisement
Is the future of dividends and buybacks safe?
Cisco said its sales in 4Q17 plunged 4.0%, extending its top-line decline to seven consecutive quarters. With Cisco struggling to grow sales amid competition from Juniper (JNPR) and Arista (ANET) and unfavorable shifts in its hardware market, questions have come up about the future of dividends and buybacks at the company.
While declining sales is a cause for concern, Cisco is looking at cost-cutting measures to continue to improve shareholder value. Under its restructuring plan, Cisco is in the process of eliminating 1,100 jobs on top of the 5,500 job cuts it announced a year ago. The company said its operating expenses fell 7.0% in 4Q17.
Investing in innovation
Cisco could use savings from these job cuts to drive more growth and create more shareholder value. As Cisco has expanded into security software and services, it needs to innovate more to stay ahead of competitors such as Proofpoint (PFPT), FireEye (FEYE), and SecureWorks (SCWX).