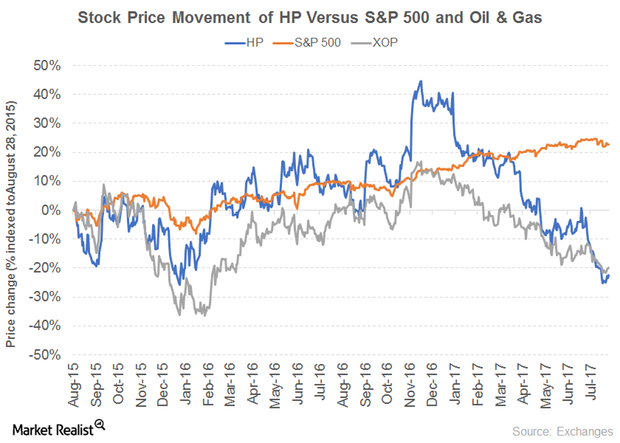 Decoding Helmerich & Payne's Dividend Yield
What's driving Helmerich & Payne's high yield?
Contract oil and gas well driller Helmerich & Payne (HP) recorded a sharp drop in its 2016 operating revenue due to declines in its US drilling, offshore, and international segments. Its revenue fell 19% in 2015, compared with 51% in 2016. Its operating income, as a result, ended up in the negative zone in 2016 after a 36% fall in 2015 despite lower operating expenses.
Article continues below advertisement
Helmerich & Payne's earnings per share
Helmerich & Payne's interest expenses tripled and doubled in 2015 and 2016, respectively. Its EPS (earnings per share) turned negative in 2016 after falling 40% in 2015. Its free cash flow has grown over the years.
The company had a debt-to-equity ratio of 0.11x in 2016. The stock's returns have beaten those of the S&P 500 and oil and gas drilling industry by a wide margin in 2016. However, on a YTD (year-to-date) basis, both the stock and the industry have been outperformed by the S&P 500.
Decoding Helmerich & Payne's high dividend yield
Over the first nine months of 2017, the company's revenue fell 2% due to lower contribution from all segments. An increase of 15% in operating expenses led to negative operating income. Coupled with a 5% interest expense increase, these factors led to negative EPS.
The iShares Core High Dividend ETF (HDV) has a substantial stake in the consumer non-cyclical space. It offers a dividend yield of 3.3%, at a PE (price-to-earnings) ratio of 21x. The ETF has a 1% exposure to small- cap stocks. The WisdomTree US Dividend Growth ETF (DGRW) offers a dividend yield of 2.8%, at a PE ratio of 20.3x. The ETF has a 2% exposure to small caps.