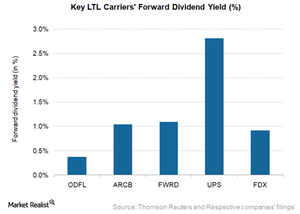 Have Less-than-Truckload Carriers Returned Enough to Shareholders?
By Samuel Prince

Updated
Distribution to shareholders
Now, we'll turn to the cash distributions by major LTL (less-than-truckload) carriers in 1H17. Trucking is a capital-intensive industry. Thus, carriers tend to put profits back into the business. 2017 has been a promising year for the transportation sector. The online shopping boom, higher freight volumes, and increased commodity prices fueled the upward momentum in these stocks.
A company returns cash to investors in the form of equity dividends and stock buybacks. In this part, we'll evaluate the dividend and stock repurchases by less-than-truckload (IYT) carriers.
Article continues below advertisement
Dividends and stock buybacks
Among the discussed less-than-truckload operators, only Old Dominion Freight Line (ODFL) and ArcBest (ARCB) make regular equity dividend payments. The other carriers such as XPO Logistics (XPO), SAIA (SAIA), and YRC Worldwide (YRCW) don't intend to pay equity dividends. Plus, none of these companies except ODFL make stock repurchases.
XPO's thrust on inorganic growth is evident in its lack of dividends. In this case, investors should closely monitor XPO's stock movement, which has risen considerably in the last one year.
Arcbest's equity dividend per share was $0.08 in 2Q17, equaling the per share amount paid in 2Q16. In the first half of 2017, Old Dominion had paid equity dividends of $16.5 million. The company didn't pay dividends in the corresponding period last year. Its quarterly dividend was $0.1 per share in the first two quarters of 2017.
However, there was a substantial decline in ODFL's stock buybacks. In 1H17, the company bought back $7.1 million worth of stock, down 71% from $84.6 million in the corresponding period last year. Cash distribution analysis of the major LTL carriers reveals the pattern of retention of earnings. The overall trucking sector is poised for a consolidation. In such a case, players like SAIA and ARCB pose a good target to the bigwigs in the LTL space.
Stay tuned to know about Electronic Logging Devices and its impact on less-than-truckload carriers.