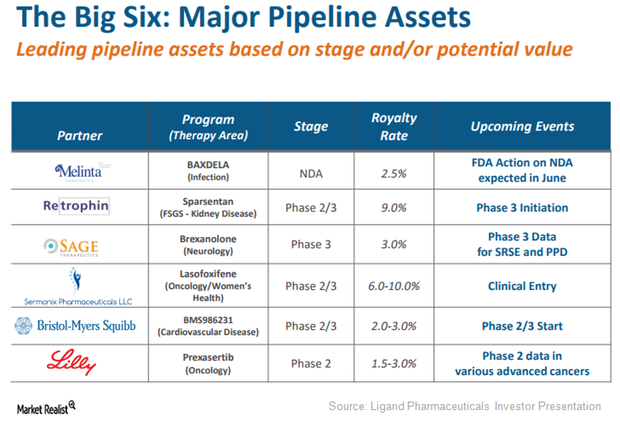 Captisol-Enabled Prexasertib May Be Major Growth Driver for Ligand
Captisol-Enabled Prexasertib
Eli Lilly's (LLY) Captisol-enabled drug Prexasertib is currently being evaluated in multiple oncology indications such as head and neck cancer, small-cell lung cancer (or SCLC), and advanced metastatic cancer. This investigational checkpoint kinase 1 (or CHK1) and checkpoint kinase 2 (or CHK2) inhibitor has already demonstrated high efficacy in a Phase 2 trial for BRCA wild type sporadic high-grade serous ovarian cancer indication. Data from the Phase 2 trial for Prexasertib in SCLC indication is expected in 2017.
Article continues below advertisement
Ligand Pharmaceuticals (LGND) entered a licensing agreement related to Captisol technology platform with Eli Lilly in 2011. Eli Lilly has already nominated Prexasertib as a priority internal development program, which suggests that this research program will be one of the few projects on which the company plans to focus its financial and human resources.
With CHK1 emerging as a potent class of drugs for cancers involving DNA repair defects, Prexasertib could prove to be a first-in-class monotherapy for both platinum-sensitive and platinum-resistant types of ovarian cancers. This may have a favorable impact on Ligand Pharmaceuticals stock as well as the iShares S&P Small-Cap 600 Growth ETF (IJT). Ligand Pharmaceuticals makes up about 0.69% of IJT's total portfolio holdings.
The above diagram lists Ligand Pharmaceuticals' leading pipeline assets, which include Prexasertib as well as the royalty rates payable to the company by its partners.
Merestinib research program
In addition to Prexasertib, Eli Lilly is also involved in evaluating another Captisol-enabled investigational oncology drug, small molecule MET kinase inhibitor, Merestinib. This drug is being studied in Phase 1 and Phase 2 trials for advanced cancer and biliary tract cancer indications, respectively. Ligand Pharmaceuticals expects data readouts from these trials in late 2017 or early 2018.
These oncology research programs are expected to enable Eli Lilly and Ligand Pharmaceuticals to compete effectively with other oncology players such as Pfizer (PFE) and Merck (MRK).