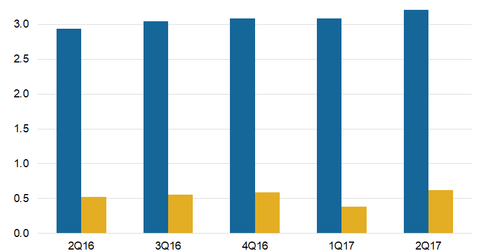 Can JPMorgan Chase's Asset Management Division Attract More Funds in 2H17?
By Robert Karr

Updated
Marginal sequential rise
JPMorgan Chase's (JPM) Asset Management division has seen strong growth in recent quarters—largely in line with other asset management companies and mainly due to higher inflows and rising markets (SPY) (SPX-INDEX). However, there has only been a marginal recovery of the index in 3Q17 when compared with the decline we saw in 2Q17.
JPM was managing $1.9 trillion as of June 30, 2017—a growth of 11% on a YoY (year-over-year) basis and of 2% on a sequential basis—reflecting strong inflows.
Article continues below advertisement
In 2Q17, JPM's Asset Management division saw new flows of $9 billion into long-term offerings and outflows of $7 billion from liquidity products, reflecting an increasing risk appetite. The division faces competition, however, from traditional and alternative managers like BlackRock (BLK), Carlyle (CG), Vanguard Group, and Goldman Sachs (GS).
Macros and policies
Meanwhile, geopolitical tensions such as North Korea and subdued growth across regions haven't quite kept investors from pouring in more funds, largely due to an absence of product offerings that generate decent returns. Mutual funds and investment plans have been instrumental in attracting retail capital toward equities. 
The Asset Management division saw net income of $624 million, representing a growth of 20% YoY, mainly due to the slower growth of expenses and higher performance fees. The division's pretax margin grew to 32% in 2Q17, compared with 29% in 2Q16.
For this division, 77% of total mutual funds have ranked in the first or second quartile over the past five years, reflecting a better performance than the industry average. The division's client assets grew 11% to $2.6 trillion, largely due to the flow of assets, strong client activity, and appreciation of holdings. The division also saw 9% higher loan balances to $122.2 billion, reflecting leveraged bets and deployment toward riskier asset classes.