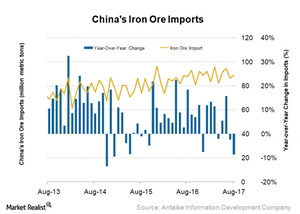 Can China's Iron Ore Imports Support Prices?
By Anuradha Garg

Updated
Customs data and China's iron ore imports
China is the world's largest consumer of iron ore. Therefore, to gauge the outlook for iron ore demand, it's important to track China's iron ore import data. China's imports also indicate the demand patterns for iron ore among Chinese mills and traders.
Article continues below advertisement
China's imports
China's iron ore imports for August reached 88.9 million tons, making it the strongest month for imports in 2017. The imports were 86.3 million tons in July. The country had imported 1.0 billion tons of iron ore in 2016. In 2017 as well, its iron ore imports have remained elevated year-to-date (or YTD). For the first eight months of the year, the imports are 6.6% higher year-over-year (or YoY) at 714.4 million tons.
Strong iron ore demand
The demand for iron ore in China remains robust in 2017 owing to higher steel prices and margins. The steel mills are taking advantage of higher steel prices and are ordering more high-grade iron ore to control pollution. This, in turn, is leading to higher demand for higher grade ore and expanding the gap between high grade and low-grade iron ore.
Crackdown benefits imports
The crackdown by Chinese authorities on pollution-emitting steel plants has led to a surge in imports. The purity content of domestic iron ore is very low as compared to the imported iron ore, particularly from big iron ore miners. This is the reason that demand for imports has increased as compared to that for domestic ore.
Iron ore from Australia and Brazil is usually of higher quality with fewer impurities. This iron ore is mostly produced by big miners (PICK) such as BHP Billiton (BHP), Vale (VALE), Rio Tinto (RIO), and Cleveland-Cliffs (CLF). Since these producers have economies of scale, they can produce iron ore at a much lower cost compared to domestic Chinese producers. Therefore, domestic steel mills find this process to be much more cost-efficient.