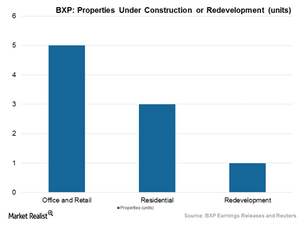 Boston Properties Maintained Profitability with Development Projects
Why capital deployment matters
REITs are operating in a highly competitive market. As a result, they have to maintain their profitability by regular development and maintenance.
Further, the commercial REITs are repositioning their properties in high-demand Class A cities that provide rent growth opportunities to companies.
Article continues below advertisement
Development projects were taken up recently
During 2Q17, Boston Property started developing a Class A office project at 145 Broadway, spanning 485,000 square feet located in Cambridge, Massachusetts. It further completed a Class A office redevelopment project spanning 73,000 square feet located in Waltham, Massachusetts.
Expansionary activities to boost market presence
During 2Q17, Boston Properties took over Class A office property 103 Carnegie Center worth $15.8 million. The property, which spans across 96,000 square feet, is located in the premium area of Princeton, New Jersey, and is 83% leased.
BXP leased properties with a total area of 926,000 square feet in 2Q17. Further, the company has already leased out 1.3 million square feet of property in the third quarter to date. BXP leased out property to cosmetics giant Estée Lauder (EL) at the General Motors Building and Marriott International (MAR) for their new headquarters.
Streamlining helps maintain profitability
Apart from development and acquisition, Boston Properties has undertaken several dispositions in order to maintain profitability and efficiency. Disposition of non-core businesses and underperforming assets has helped the company streamline its portfolio and focus on its core business, which generates high profit.
BXP sold off a 9.5-acre parcel of land for $5 million at 30 Shattuck Road in Andover, Massachusetts. Proceeds from the sale generated a profit of $3.7 million for the company. Boston Properties also sold 40 Shattuck Road located in Andover, Massachusetts. The sale of the 122,000-square-foot property for $12 million generated a profit of $28,000.
In the next article, we'll see if these REITs can survive at high interest rates.