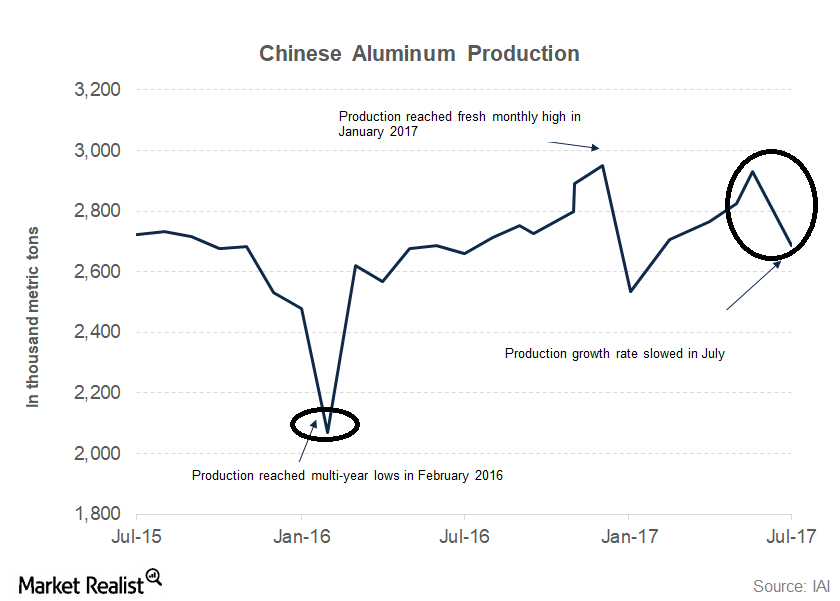 Aluminum's Outlook: What Investors Can Expect
Aluminum's outlook
Aluminum prices have been strong in 2017 and have built on last year's gains. The entire industrial metals space has come a long way since 1Q16 when prices threatened to breach their 2009 lows.
Article continues below advertisement
Fundamental factors
Looking at the recent rally, while it's backed by some improvement in fundamentals, the spike could also have some element of speculation to it. In aluminum's case, it's basically a story of better-than-expected Chinese demand and supply-side reforms. Chinese steel prices have also risen this year for precisely the same reasons.
However, the steep rise in steel prices has Chinese authorities worried. According to China Daily, citing the CISA (China Iron and Steel Association), "Steel products' price surge is not due to strong demand or inadequate supply but speculative trading by some unscrupulous market players." The report also said that "government policies on steel overcapacity reduction, elimination of inferior steel and environmental protection have been over-interpreted and even misunderstood by the market."
Capacity cuts
Coming back to aluminum (CENX) (NHYDY), while China is cutting outdated and polluting capacity, it continues to add new capacity. Investors should closely watch Chinese aluminum production and exports data in 4Q17 to see whether the capacity cuts are reflected in these numbers.
For now, the aluminum market's sentiments are strong and bears have little to cheer about. There doesn't appear to be an immediate trigger for a correction in prices. However, we could see some downward pressure in the coming months. Rising geopolitical tensions could be another negative trigger for risk assets including commodities (DBC) (RIO).
In the next part, we'll see what analysts project for Alcoa's (AA) earnings amid higher aluminum prices.