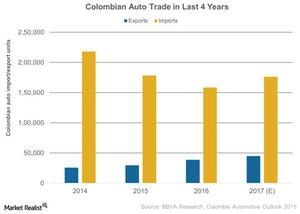 Will Trade Deal with Mercosur Bloc Boost Colombia's Auto Sector?
Recent developments in trade with Mercosur bloc
Colombia (GXG) signed a deal with the Mercosur trade bloc on July 21, 2017, to allow the import of limited quantities of certain products without a tariff in the Colombian market. The products under the trade deal include automobiles, textiles, and agrochemicals, according to Reuters. The recent deal is a new addition to the Economic Complementary Agreement between Colombia and the Mercosur countries.
Article continues below advertisement
The increased trade between the Mercosur bloc and Colombia is expected to benefit the auto industry in the Latin American region. The Mercosur bloc includes Argentina, Brazil, Paraguay, and Uruguay. Let's look at trends in auto exports and imports in Colombia over the last few years in the below chart.
Colombian auto trade
Colombian (EEM) auto trade saw a decrease of about 5% from 2015 to 2016. However, it is on a rising trend so far in 2017. Auto parts sales stood at $3.9 billion in 2016, a 2% decrease as compared to 2015. The decrease in auto trade was mainly attributed to the decline in global oil prices, the depreciation of the Colombian peso, and a slowdown in economic activity. However, the rise in oil price and improved global trade is expected to boost the auto sector in Latin America (ILF) in 2017.
Article continues below advertisement
According to Colombia's Trade, Industry and Tourism Ministry, the country's trade deal with the Mercosur bloc could allow the export of about 42,000 vehicles without any tariff to Argentina and up to 50,000 to Brazil. The deal will also enable it to export 31,000 tons of tariff-free agrochemicals to Argentina, which is worth about $434 million as per Reuters.
Trade deal to benefit Colombia
The Economic Complementary Agreement is expected to benefit Brazil and Colombia's auto sector going forward. Earlier in 2017, Brazil had agreed to allow imports without a 30% industrial products tax (or IPI) on Colombian vehicles and car parts as part of a bilateral auto deal, which was under negotiation with the Mercosur trade bloc. These trade talks aim to bring the Mercosur bloc closer to free trading countries like Colombia, Chile, and Peru.
Colombia (EEM) has one of the largest automobile markets in Latin America (ILF), after Brazil and Argentina. The auto manufacturers in the Latin American (ILF) region are expected to benefit from improved trade relations in the region.
Several international auto manufacturers currently produce vehicles in Colombia including General Motors (GM), Renault (RNLSY), Mazda (MZDAD), and Toyota (TM).
Let's look at consumer confidence in Colombia in our next article.