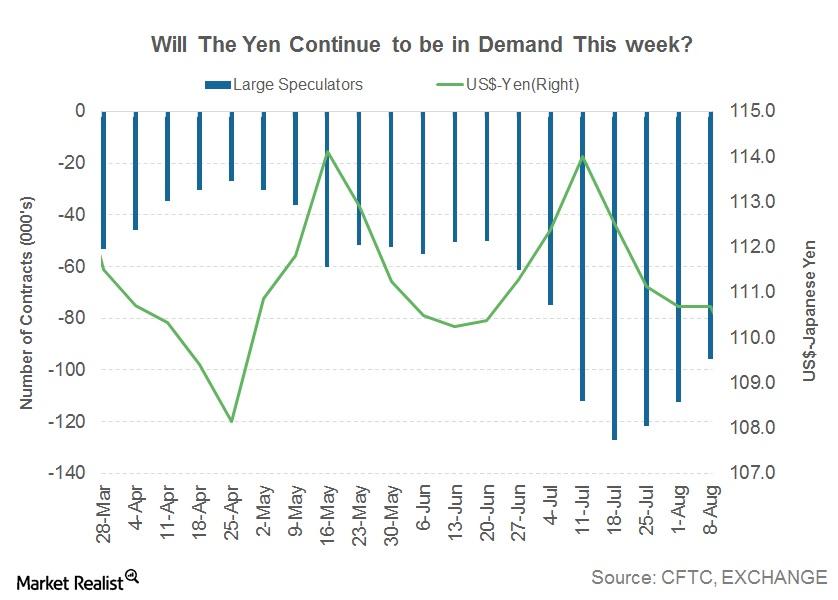 Will the Japanese Yen Appreciate Further This Week?
Yen back in demand as geopolitical tensions rise
The Japanese yen (JYN) was back in demand as geopolitical tensions took center stage last week. The yen appreciated by 1.4% in the week ending August 11 to close at 109.2 against the US dollar (UUP). The escalation of tensions between the US and North Korea led to an increase in demand for the yen. The Japanese yen and the Swiss franc (FXF) are considered safe-haven currencies in times of uncertainty. Both these countries have a current account surplus and are net creditors. That is the reason for the demand for the yen (FXY) despite Japan being geographically closer to North Korea.
Japanese equity markets (EWJ) remained weak in the previous week with the Nikkei 225 (JPXN) posting a weekly loss of 1.2%.
Article continues below advertisement
Article continues below advertisement
Speculators reduced bearish bets on the yen
Japanese yen speculators turned bullish on the currency last week. As per the latest Commitment of Traders report, released on August 11 by the Chicago Futures Trading Commission, currency market speculators' net positions have fallen 16,383 contracts. The total net speculative positions stood at -95,813 contracts as compared to -112,196 contracts in the previous week. This data only goes up to August 8, and this trend likely continued in the last three trading sessions of the week.
Will there be continued demand for the yen this week?
Risk-off sentiment seems to have receded in the Asian session on August 14. If there are no new developments in the US-North Korea tensions, we can expect the demand for the yen to wane, but any new threats could take the yen below 108.0 against the US dollar. Japan reported a strong second quarter performance on Monday, August 14. The economy expanded 1% during the quarter, but the data had a limited impact on the currency.