Why Manufacturing Activity in Brazil Is on a Decline
Manufacturing activity in Brazil In July 2017, the manufacturing PMI (purchasing managers' index) in Brazil (BRZU) continued to decline, falling to 50 from 50.5 in June 2017. July 2017 brought a slowdown in both output and new business. US companies doing business in Brazil include Walmart (WMT), ExxonMobil (XOM), Chevron (CVX), and Apple (AAPL). Brazil (EWZ) […]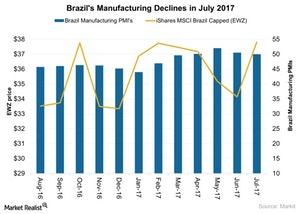 Manufacturing activity in Brazil
In July 2017, the manufacturing PMI (purchasing managers' index) in Brazil (BRZU) continued to decline, falling to 50 from 50.5 in June 2017. July 2017 brought a slowdown in both output and new business. US companies doing business in Brazil include Walmart (WMT), ExxonMobil (XOM), Chevron (CVX), and Apple (AAPL).
Brazil (EWZ) has avoided further political uncertainty with its interim president's corruption charges being blocked. However, Brazil's top prosecutor is expected to file new charges against President Temer. President Temer aims to bring about economic and structural reforms for sustainable economic growth in Brazil.
Article continues below advertisement
Article continues below advertisement
Business conditions in Brazil
The Brazilian (FBZ) manufacturing sector saw a slowdown in output and new orders in July 2017, according to an IHS Markit report. New orders, which make up the largest segment of the headline PMI, saw the slowest upturn in new work order expansion in five months. However, expansion was reported in domestic and international markets. New export orders posted the fastest increase since April 2016.
While output has grown at a slower pace since April 2016, a more gradual rise in production was seen across consumer and intermediate goods in July 2017. Meanwhile, output in the capital goods category recovered from the month prior.
Purchasing activity and employment
Whereas purchasing activity declined in July 2017, it saw a soft reduction than in June.Employment fell across the consumer, intermediate, and investment goods categories. However, the overall rate of reduction was more moderate than in the month prior.
Price pressures remained high as input costs increased amid weaker currency, driving prices of imported goods. However, prices charged by manufacturers fell amid competitive pressures and efforts to stimulate demand.
Expectations
Manufacturers in Brazil (BZQ) remained optimistic about growth, with better expectations of economic conditions and new product launches in July 2017. In the next article, we'll look at Indonesia's manufacturing activity.