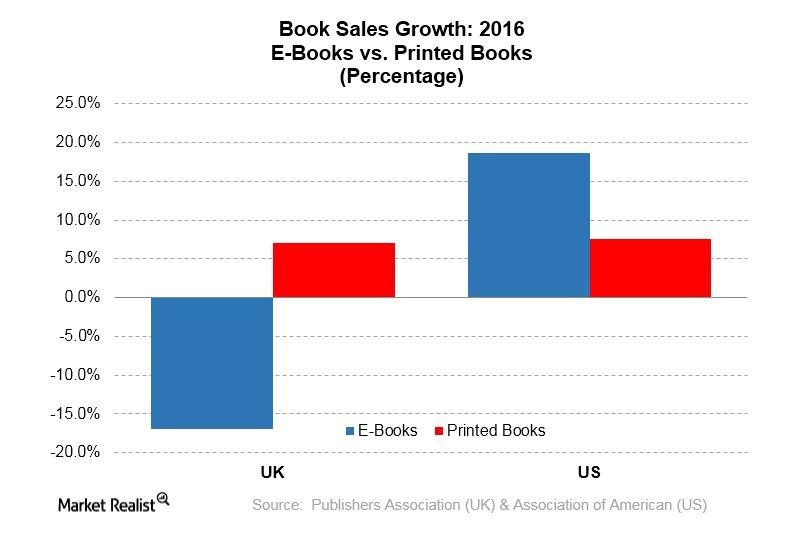 Why Is Amazon Opening Physical Bookstores?
Amazon Books opening across the US
In recent months, Amazon (AMZN) has opened several brick-and-mortar bookstores, called Amazon Books, in an escalating competition with Barnes & Noble (BKS). The stores have opened in several cities in the US (SPY), including Seattle and New York City.
Although it once seemed sure that e-books would phase out printed books, recent market data could cast doubt on this outcome. Pew Research Center noted in a report that 65% of Americans reported reading a printed book in 2016 compared to 28% who reported reading an e-book.
Article continues below advertisement
Declining interest in e-books
In the UK (EWU), the Publishers Association said that sales of consumer e-books in the UK dropped 17% in 2016, while sales of printed books and journals increased 7%. In the US, the Association of American Publishers said sales of e-books plunged 18.7% in the first nine months of 2016, while sales of printed books rose 7.5% over the same period.
Responding to market shifts
As interest in e-books declines and as readers seem to be returning to traditional printed books, Amazon's bookstore move appears to be a response to the shifts in the book market (QQQ). By operating physical bookstores selling printed books, Amazon can take advantage of the rise in printed book purchases while maintaining a footprint in the e-book market.
According to PricewaterhouseCoopers, the global book market could grow to $121.1 billion by 2020, up from $114.8 billion in 2016.