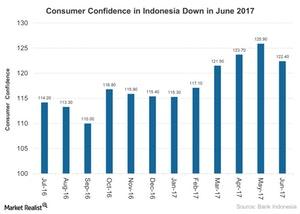 Why Indonesia's Consumer Confidence Was Down in June 2017
By Mary Sadler

Aug. 4 2017, Updated 9:09 a.m. ET
Consumer confidence in Indonesia
Consumer confidence in Indonesia (EIDO) fell to 122.4 in June 2017 from an all-time high of 125.9 in May 2017. The perceived job situation in Indonesia (IDX) primarily led to the decline. However, on a quarterly basis, the consumer confidence stood at 124.0 for 2Q17, up from 118.0 in the previous quarter. Let's look at the consumer confidence in Indonesia in the below chart.
Article continues below advertisement
Consumer confidence in June 2017
Indonesia's (EEM) consumer confidence in June 2017 was at the lowest level in the last three months, as households were less optimistic about job availability, income, and economic conditions for the next six months. The present situation index fell to 113.7 from 115, and the expectations index was down to 131 in June 2017 from 136.9 in May 2017.
Current economic conditions in Indonesia
Consumers in Indonesia (IEMG) perceived the current economic conditions to be more subdued mainly due to limited jobs availability. The index for job availability dropped to 96.6 in June 2017 from 116.0 in the previous month. On the contrary, the index for receipts of annual bonuses and gains in business incomes rose to 127 in June 2017 from 124 in May 2017. The index for buying durable goods also rose in June 2017 to 117.5 from 116.0 in May 2017.
Article continues below advertisement
Consumer expectations index
The consumer expectations index (or CEI) fell to 131.0, a decrease of 5.9 points from the previous month. Consumers were less upbeat about the economic conditions for the next six months as compared to the previous month. The lower CEI in June 2017 came from all the components including expectations of future job availability, income expectations, and business expectations.
Expectations
The improved economic fundamentals and policy reforms are expected to drive economic growth in Indonesia (ASEA) in 2017. President Joko Widodo aims to improve economic growth by attracting investments and improving infrastructure through his reforms. The consumption growth in Indonesia is lower so far in 2017 but is expected to improve with increased exports and investments. Retail sales in Indonesia rose 3.8% in May 2017 as compared to the previous month.