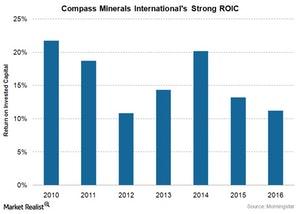 What's Compass Minerals Doing to Gain a Cost Advantage?
Compass Mineral International (CMP US) has been given a "wide economic moat" rating from Morningstar, based on an "enviable portfolio of cost-advantaged assets." Compass produces salt and magnesium chloride (used in highway de-icing), and plant nutrients including potash (a premium fertilizer) that it delivers mostly to North America. Compass is able to deliver de-icing salt at a low cost given its Goderich rock salt mine in Ontario. Goderich is the world's largest active salt mine and boasts unique geology with convenient access to a deep-water port. Also, Compass' operations at the Great Salt Lake in Utah produce sulfate of potash from one of only three naturally occurring brine sources, which avoids the costs incurred through chemical processing. Writes Morningstar, "Compass' cost advantages have led to solid returns on invested capital."
Article continues below advertisement
Market Realist
Compass Minerals' competitive position
Kansas-based Compass Minerals International (CMP), a company with a $2.1 billion market cap, has gained a competitive wide-moat rating from Morningstar. The company produces and sells salt, industrial minerals, materials (FXZ) (XME) (PICK), and fertilizers (SOIL) in the US and internationally.
Compass Minerals obtained a cost advantage through location and geology, and it earned higher profits from two of its main products—salt and fertilizer. Compass Minerals is the lowest-cost salt producer in the industry. It has an advantage from holding the largest rock salt mine in the world in Goderich, Ontario, Canada. The company also owns the largest dedicated rock salt mine in the UK, located in Winsford, Cheshire. As of December 31, 2016, its salt mines in Canada and the UK comprised 84% of its salt production capacity.
The Goderich salt mine's proximity to Lake Huron gives the mine access to water and benefits from lower shipping costs. The mine also holds a unique geology benefit of large, thick salt deposits, which helps reduce its production costs. Because this site is located in an area with heavy snowfall, the company has the upper hand in the manufacture of deicing salt.
By efficiently utilizing its production processes, geological resources, and mining techniques in both mines, Compass Minerals produces salt at a lower cost. As of December 31, 2016, the company's production capacity stood at ~15.6 million tons of salt yearly.
This cost advantage has helped Compass Minerals maintain a strong, consistent return on invested capital, as shown in the chart above. The company has maintained strong profit margins since 2010. Led by its superior assets, location, and geological advantages, Compass Minerals holds a competitive position with a wide economic moat rating.