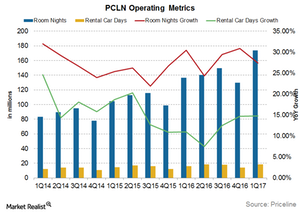 What Priceline's Key Metrics Suggest
Gross bookings rise
The gross bookings metric is used to measure the total value of all travel services purchased by customers. For the first quarter of 2017, Priceline Group's (PCLN) gross bookings have risen 24.2% YoY (year-over-year) to $20.7 billion. On a constant dollar basis, gross bookings have risen 27.0% YoY. That's higher than growth in 2016 when gross bookings rose 23.0% YoY to $68.1 billion.
Article continues below advertisement
Accommodation business, a major contributor
The majority of Priceline's (PCLN) growth has come from its accommodations business. Hotel room nights sold rose ~27.4% YoY in the first quarter. It's slightly lower than 2016 when the company was able to report a rise of 28.7% YoY.
Rental car days
PCLN's rental car business rose 14.8% YoY in 1Q17. For 2016, rental car days rose 11.2% YoY compared to 25.0% YoY in 2015. Rental car days account for ~12.0% of total bookings.
Article continues below advertisement
Airline tickets: De-growth but small
Sales of online airline tickets have been on a declining trend in the last few quarters, falling 2.1% YoY in 3Q16. However, it will not have an impact on PCLN's business since airline ticket sales account for just 1.0% of PCLN's total bookings.
Outlook
Priceline management expects 2Q17 gross bookings to rise 12.0%–17.0% YoY (15.0%–20.0% in constant dollars). Again, a majority of this is expected to come from its accommodations business. The room night figure is expected to rise 16.0%–21.0%.
You can gain exposure to Priceline stock by investing in the PowerShares DWA Consumer Cyclicals Momentum ETF (PEZ), in which PCLN has the highest weight of ~4.6%. PEZ also holds 3.3% in Expedia (EXPE). However, it has no exposure to other online travel stocks, including TripAdvisor (TRIP) and Ctrip.com International (CTRP).