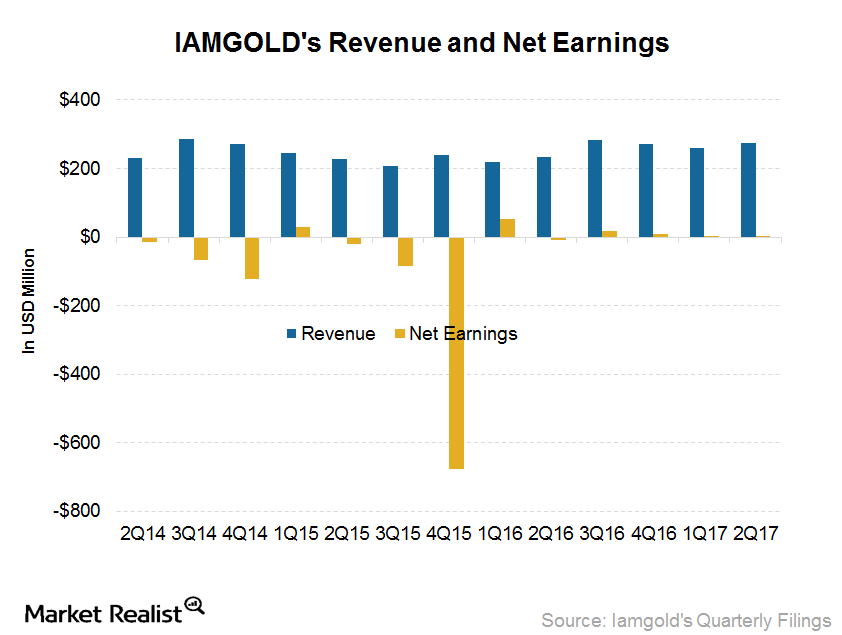 Understanding IAMGOLD's 2Q17 Earnings Highlights
IAG's revenue growth
IAMGOLD's (IAG) 2Q17 production was 223,000 ounces of gold—growth of 26,000 ounces or 13% year-over-year (or YoY). This increase was mainly due to:
continued ramp-up of the Westwood mine, which contributed 17,000 additional ounces
higher throughput at Essakane, which contributed 12,000 additional ounces
increased production from the above two factors, which was partially offset by lower grades at Sadiola, leading to a loss of 4,000 ounces
IAG's attributable gold sales rose 17% YoY to 219,000 ounces.
In line with its increase in sales, IAG's revenues also rose 18% in 2Q17 from 1Q16.
Article continues below advertisement
Article continues below advertisement
IAG's financial highlights
IAMGOLD's gold (GLD) margin for 2Q17 was $516 per ounce, up $3 per ounce YoY. Its net operating cash flow was $68.3 million—25% higher than 2Q16 and 30% higher than 1Q17. The company's net earnings were $506.5 million in 2Q17, compared to a net loss of $12.2 million in 2Q16. This significant growth was due to an impairment charge reversal at the Cote Gold project and Rosebel mine. Its adjusted earnings, on the other hand, were $4.3 million—a decline of $1.6 million YoY.
IAG's peer New Gold (NGD) released its 2Q17 earnings on July 26, 2017. Its earnings were in line with market expectations while revenues slightly beat consensus. Eldorado Gold (EGO) released its 2Q17 results on July 28. It reported earnings in line with expectations while it missed revenue estimates. Several of its mines reported issues. Credit Suisse (CS) also downgraded the stock twice in one month.
AngloGold Ashanti (AU) will report its 1H17 results on August 21, 2017.
In the next few articles of this series, we'll analyze the performances of IAMGOLD's mines and their outlooks.