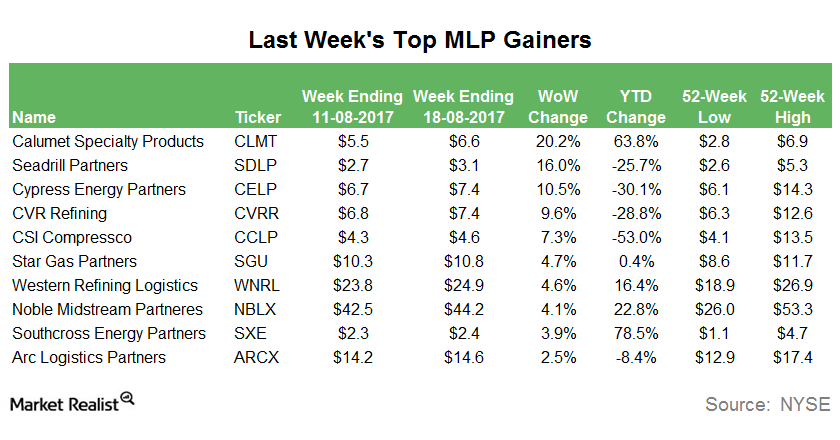 These MLPs Came out on Top on August 18
Calumet Specialty Products Partners
Calumet Specialty Products Partners (CLMT) was the top-performing MLP (master limited partnership) last week (ended August 18, 2017). CLMT's shares surged after it announced that it would sell its refinery business.
The partnership gained 20.2% during the week, driving its YTD (year-to-date) gains to ~60%. CLMT now expects to focus on its specialty products business. (For details, read Market Realist's series Calumet's Superior Refinery Sale: A Step in the Right Direction?)
Article continues below advertisement
Seadrill Partners
Seadrill Partners (SDLP), an MLP involved mainly in offshore drilling, was the second-biggest gainer last week, rising 16.0%. SDLP rallied after it announced amendments to its secured credit facilities. (For details, read the series Seadrill Partners Resumes Dividends before Its 2Q17 Results.)
Cypress Energy Partners
Cypress Energy Partners (CELP), which provides saltwater disposal and water-related services to US onshore crude oil and natural gas drillers and pipeline inspection services, was among the top gainers last week as well. CELP rose 10.5% following its strong 2Q17 earnings results. The partnership posted a 58.1% QoQ (quarter-over-quarter) growth in its adjusted EBITDA for its most recent quarter.
According to Peter C. Boylan III, CELP's CEO (chief executive officer), the MLP has "continued to focus on growing and diversifying [its] customer base, and during the quarter, [it] added 20 new customers across [its] three business segments."
Other top MLP gainers last week