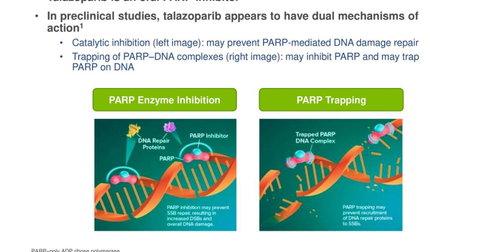 Talazoparib Could Be a Significant Long-Term Growth Driver for Pfizer
By Daniel Collins

Updated
Talazoparib (PARP inhibitor)
Talazoparib is a poly ADP-ribose polymerase (or PARP) inhibitor, which is under evaluation for the assessment of safety and efficacy in the treatment of individuals with breast cancer with germline BRCA mutations and other cancer forms with deficiencies in DNA damage repair (or DDR).
BRCA and PARP are proteins that are required for normal DDR. The cells in the human body experience constant DNA damage such as single-strand breaks (or SSBs) and double-strand DNA breaks (or DSBs). BRCA mutations may be hereditary or sporadic. The lacking BRCA proteins due to mutation leads to the overuse of PARP enzymes for repairing damaged DNA. This repair of SSBs by PARP allows DNA replication and survival of tumor cells.
Talazoparib inhibits the PARP enzyme activity, and SSB repair of BRCA positive tumor cells is restricted, which leads to harmful DSBs and finally death of these tumor cells. Talazoparib is also believed to trap the PARP enzyme on SSBs.
The trapping of the PARP enzyme on SSB prevents dissociation of the enzyme from the damaged DNA. Scientists believe that the trapping mechanism could prevent other proteins that help in DNA repair from completing the DNA repair process.
Article continues below advertisement
ABRAZO trial
In June 2017, Pfizer (PFE) presented the results from the Phase 2 ABRAZO trial. The Phase 2 ABRAZO trial was conducted to evaluate safety and efficacy of Talazoparib for the treatment of individuals with germline (inherited) BRCA1/2 positive advanced breast cancer.
In the Phase 2 ABRAZO trial, the Cohort 1 arm consisted of 49 patients who had previously responded to platinum-based chemotherapy and later developed disease progression. Among the patients in Cohort 1, 21% of these patients achieved an objective response rate (or ORR).
The Cohort 2 arm consisted of 35 patients who developed disease progression after at least three lines of non-platinum-based therapy. Among the patients in the Cohort 2 arm, 37% of these patients achieved ORR.
The Phase 2 ABRAZO trial demonstrated that in both cohorts, talazoparib exhibited anti-tumor activity.
Ongoing trials
Pfizer is conducting the Phase 3 EMBRACA trial for the evaluation and comparison of safety and efficacy of talazoparib in individuals with locally advanced or metastatic breast cancer and have germline BRCA mutations compared to the protocol-based therapy of the physician's choice.
Pfizer's peers in the breast cancer drugs market include Bristol-Myers Squibb (BMY), Merck (MRK), Roche (RHHBY), Novartis, and AstraZeneca. The Vanguard S&P 500 ETF (VOO) invests ~0.94% of its total portfolio in Pfizer.