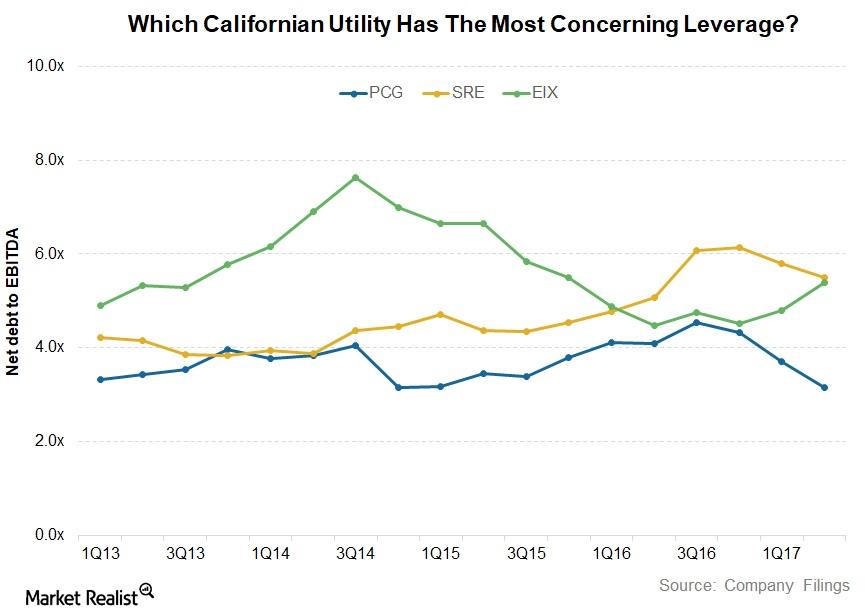 Which SPX Utility Has the Most Alarming Leverage?
Debt profile
Let's analyze utilities' debt profiles in this part. In this series, we're comparing California's three largest utilities—PG&E (PCG), Sempra Energy (SRE), and Edison International (EIX).
At the end of 2Q17, PG&E had a total debt of $18.5 billion, while Sempra Energy had total debt of $18.1 billion. Its debt might increase going forward because it plans to acquire Texas-based Oncor Electric. Edison International's debt was $12.8 billion.
Article continues below advertisement
Leverage
Utilities generally carry a huge pile of debt on their books, so it's important to analyze their leverage. We'll discuss the utilities' net debt-to-EBITDA ratios. The net debt-to-EBITDA (earnings before interest, tax, depreciation, and amortization) ratio shows how many years it will take to repay current debt—keeping the debt and EBITDA constant.
At the end of 2Q17, PG&E's net debt-to-EBITDA ratio was 3.2x—lower than its three-year average ratio of 3.8x and also lower than the industry average of 4x–4.5x. Sempra Energy's net debt-to-EBITDA ratio stands at 5.4x—higher than its historical average and the industry average. Edison International's ratio is 5.4x. Its three-year average ratio is also around the same levels.
DE ratio
The DE (debt-to-equity) ratio shows how much debt is being utilized for financing a company's assets—related to equity. A higher DE ratio indicates higher debt servicing costs, which might concern investors. Currently, Sempra Energy's DE ratio is at 1.3x, while the industry average (XLU) is ~1.1x. PG&E's DE ratio is 1.0x, while Edison International's DE ratio is ~1.05x.
In the next part, we'll discuss the utilities' dividend profiles.