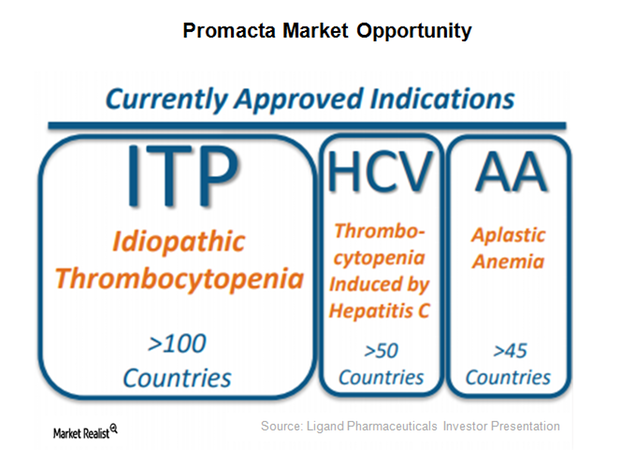 Promacta: A Major Growth Driver for Ligand Pharmaceuticals in 2017
Promacta in Ligand Pharmaceuticals' portfolio
Novartis' (NVS) Promacta (eltrombopag) is a once-daily oral medicine mainly indicated for thrombocytopenia. Promacta was discovered by Ligand Pharmaceuticals (LGND) and GlaxoSmithKline (GSK) as a part of their thrombopoietin (or TPO) receptor agonist research collaboration, which commenced in 1995.
On December 18, 2008, GlaxoSmithKline also acquired the worldwide exclusive rights to Ligand Pharmaceuticals' follow-on TPO receptor agonist, LGD-4665. On March 2, 2015, Novartis completed the acquisition of certain oncology assets from GlaxoSmithKline, including Promacta.
Article continues below advertisement
Article continues below advertisement
Promacta market opportunity
Promacta was first approved on November 21, 2008, by the FDA as an oral thrombocytopenia therapy for patients suffering from chronic immune (or idiopathic) thrombocytopenic purpura (or ITP). These patients fail to respond sufficiently to splenectomy, immunoglobulins, and corticosteroids.
Ligand Pharmaceuticals started earning royalties from Promacta in 2009. Promacta is marketed as Revolade in many markets outside the US and has secured regulatory approval in more than 100 countries in the ITP indication.
On November 19, 2012, the FDA expanded Promacta's label and approved the drug for thrombocytopenia in chronic hepatitis C (or HCV) patients so they can continue with interferon therapy. Promacta also allowed those HCV patients to opt for interferon therapy such as that provided by Roche Holdings (RHHBY). These patients were otherwise ineligible due to low platelet count. Promacta is approved for this indication in more than 50 countries.
On August 26, 2014, the FDA approved Promacta for severe aplastic anemia (or SAA) patients who failed to respond to immunosuppressive therapy. The drug has secured regulatory approval for this indication in more than 45 countries.
In 2015, FDA also approved Promacta in pediatric indication for chronic ITP (or cITP) for children aged one year and older. This approval expanded the drug's market reach in the cITP space.
Ligand Pharmaceuticals makes up about 0.68% of the SPDR S&P 600 Small Cap Growth ETF (SLYG).