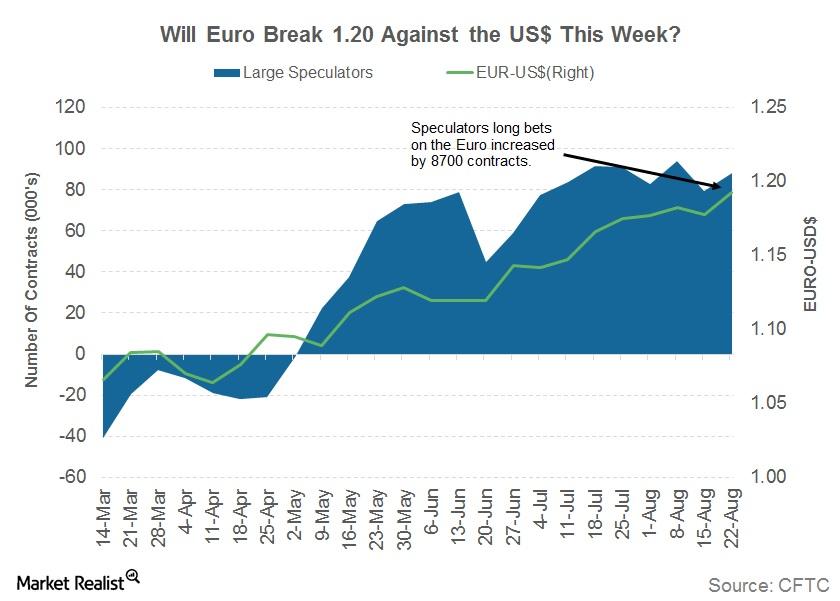 Mario Draghi Didn't Stop the Appreciating Euro
Draghi remained silent about future monetary policy
The euro-dollar (FXE) closed the week ending August 25 at 1.193 against the US dollar (UUP). The shared currency appreciated by 1.395 against the US dollar and rose to a 2.5-year high. European Central Bank President Mario Draghi didn't comment about removing monetary stimulus in his speech at the Jackson Hole symposium. Disappointment from Fed Chair Janet Yellen's speech made currency traders flock to the euro.
European equity markets' (VGK) gains were capped by the rising euro in the previous week. The German DAX (DAX) ended the week up 0.02%, the Euro Stoxx (FEZ) fell 0.13%, and France's CAC fell 0.17% in the previous week.
Article continues below advertisement
Euro speculators increase their bets
According to the latest "Commitment of Traders" report released on August 25 by the Commodity Futures Trading Commission, speculators turned bullish on the euro.
The total net speculative bullish positions on the euro (EUFX) rose from 79,267 contracts to 87,976 contracts in the previous week.
Will the euro break 1.20 against the US dollar this week?
Currency market traders ignored the silence from Draghi and flocked to the euro last week. Continued improvement in the European economy and increasing support for reducing monetary policy from ECB members will likely keep the demand high for the euro. The ECB's next meeting is two weeks away. Speculators will likely keep pouring into the shared currency until that date, which leaves the possibility of 1.20 very high.
Economic data scheduled to be reported this week include Eurozone unemployment and inflation. Expectations remain positive for the data, which will help improve the positive momentum in the Eurozone.