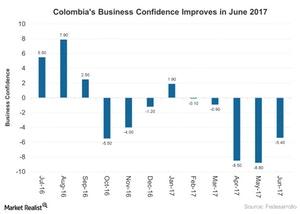 Marginal Rise in Industrial Confidence in Colombia in 2017
Industrial confidence in Colombia
Industrial confidence in Colombia (GXG) improved in June 2017 to -5.4% as compared to -8.8% in May 2017, as per the FEDESARROLLO business opinion survey. However, it saw a massive drop from 3.7% in the same period last year. The employment expectations in the manufacturing sector in 2Q17 showed improvement over the previous month but remained in negative territory and lower than in the same period last year. Let's look at the business confidence in the below chart over the last year in Colombia.
Article continues below advertisement
Industrial confidence in June 2017
Colombia's Industrial Confidence Index (or ICI) increased in June 2017 by about four percentage points from May 2017. However, ICI fell 9.1 percentage points compared to the same period last year. The drop in industrial confidence compared to June 2016 is mainly due to the deterioration in all components, specifically in order volume indicators and stock level.
The industrial confidence slightly improved on a monthly basis in June 2017, but deteriorated from last year mainly due to the following factors:
The volume index of orders contracted by 18.4 percentage points on a year-over-year basis and 3.9 percentage points on a month-over-month basis.
Stock levels expanded six percentage points on a year-over-year basis and contracted by 5.1 percentage points on a month-over-month basis.
Production expectations for the next quarter saw a fall of 2.8 percentage points year-over-year, whereas they rose by 9.2 percentage points month-over-month.
The tax reforms, which resulted in increased value-added tax from 16% to 19%, continue to impact business confidence in 2017. The increased taxes were implemented from the beginning of 2017. As a result, the manufacturing activity also remained subdued due to the increased taxation impacting the demand conditions.
Subdued industrial production in 2017
Manufacturing production in Colombia (EEM) in May 2017 dropped by 0.6% year-over-year as compared to a 6.8% decrease in April 2017. The first five months of 2017 saw production falling 1.3% as compared to the same period last year. The production fell mainly due to manufacturing slumps in clothing and footwear, textiles, machinery and equipment, and autos. The decline in manufacturing activity resulted from increased competition from Asian (ASEA) markets affecting its demand conditions, according to DANE Colombia.
Some of the large manufacturers operating in Colombia through subsidiaries and joint ventures include General Motors (GM) and Anheuser-Busch InBev (BUD).
Let's look at the inflationary trend in Colombia in our next article.