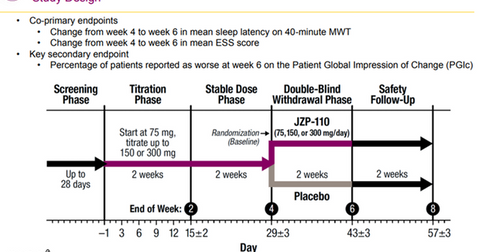 Inside the Efficacy of JAZZ's JZP-110 in Obstructive Sleep Apnea Trials
By Margaret Patrick

Updated
Tones-3 study
To evaluate the efficacy of Jazz Pharmaceuticals' (JAZZ) investigational drug, JZP-110, in controlling OSA (obstructive sleep apnea) in narcolepsy patients, the company designed its Tones-3 study to be similar to the Tones-2 study. In addition to the three dosages of 75 mg, 150 mg, and 300 mg of JZP-110, JAZZ included a lower dose of 37.5 mg as OSA patients demonstrated less severe sleepiness.
The trial demonstrated the efficacy and safety of JZP-110 in both the MWT (maintenance of wakefulness test) and sleep latency at all dosages at the end of weeks 4 and 12. The drug also demonstrated superior efficacy in terms of MWT sleep latency by the end of the first week for doses of 75 mg, 150 mg, and 300 mg. The outcomes were seen to be dose-dependent.
Article continues below advertisement
Compared to the placebo, the 150-mg and 300-mg doses of JZP-110 managed to increase the sleep latency time by more than ten minutes on the MWT scale. JZP-110 also managed to demonstrate efficacy on the ESS (Epworth Sleepiness Scale) as well as on the PGIc (global impression of change) scale in this study.
Tones-4 study
JAZZ is also exploring the clinical profile of JZP-110 as an OSA treatment option for narcolepsy patients through a six-week withdrawal trial. It was seen that patients who had improved after JZP-110 therapy for four weeks and continued with treatment demonstrated maintenance of efficacy on both the MWT and ESS scales.
Meanwhile, those patients who were switched to a placebo after four weeks of JZP-110 therapy showed worsening conditions, but the discontinuation of JZP-110 did not result in any instances of rebound sleepiness or withdrawal-associated symptoms in the tested patients.
JAZZ is also exploring JZP-110 in an ongoing open-label extension Tones-5 study. JZP-110 thus appears to be capable of strengthening JAZZ's narcolepsy franchise and helping it compete effectively with Teva Pharmaceuticals (TEVA), Mylan (MYL), and Allergan (AGN). Notably, the Vanguard Mid-Cap ETF (VO) has ~0.24% of its total portfolio holdings in JAZZ.
In the next and final part of this series, we'll discuss the market opportunities for JZP-110.