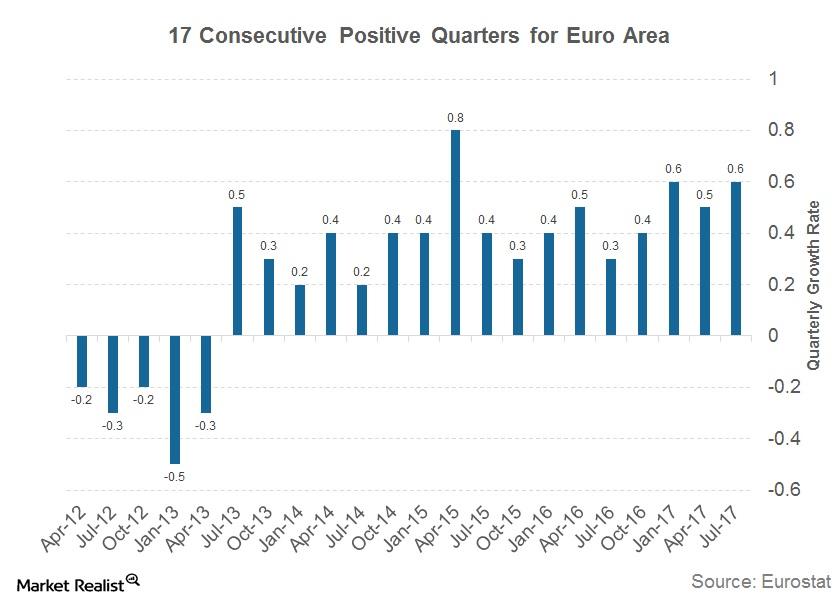 Is Strong Economic Expansion in the Eurozone Driving the ECB?
Recent economic trends in Eurozone
Economic data reported from the Eurozone indicated that the European economy (VGK) has expanded in the last 17 consecutive quarters. The annual growth rate for the Eurozone has been reported at 2.1%, which is the highest rate of growth in the last six years.
This economic expansion is expected to continue at a healthy pace as recent risk events, including Brexit and France's elections, fizzled out in favor of the Eurozone's (IEV) stability. The unemployment rate has also seen a decline, with the June unemployment rate touching its lowest point since 2009. Inflation has been trending higher, with the July inflation rate improving to 1.3%.
All this improvement should be encouraging for the European Central Bank (or ECB), which could be inching toward policy normalization in the near term.
Article continues below advertisement
ECB's hawkish tone seems justified
The current quantitative easing (or QE) program by the ECB is expected to continue without any changes until the end of this year. Despite the improvement in the European economy (FEZ), the ECB is only expected to reduce the pace of the bond buying program.
The ECB's view that inflation could pick up in the near term is unlikely to influence any changes to the QE program. However, it could influence the tone of the European Central Bank's communications.