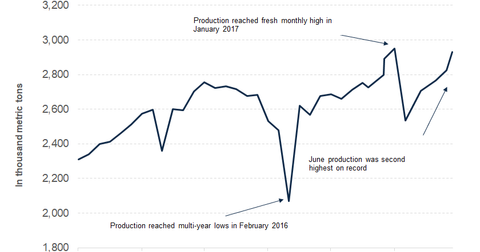 Is China Cutting Aluminum Capacity? Analyzing Producers' Views
By Mohit Oberoi, CFA

Updated
Aluminum capacity
As we noted previously, aluminum prices have been strong this year. Strength has been driven by positive supply and demand dynamics. On the demand side, aluminum demand has been better than expected in China as well as the wider world. China's supply-side reforms are supporting aluminum prices (DBC)(NHYDY).
It's worth noting that China plans to curtail its excess aluminum and steel capacity, which has led to a spike in prices. These curtailments could help address the concerns of China's trading partners who blame the country's massive overcapacity for the global aluminum and steel industry's woes. Also, Chinese authorities are clamping down on polluting industrial units in a bid to control the country's pollution levels.
However, many observers are apprehensive about China's "commitments" to cut excess capacity. Let's see what different aluminum producers have to say about China's capacity cuts.
Article continues below advertisement
Producers' views
According to Alcoa, (AA) "China has significant work to do to bring its market back into balance. Although it has already announced and taken some action to eliminate its overcapacity." The company estimates that only about 800,000 metric tons of annual capacity have been curtailed in China so far.
Century Aluminum (CENX) also sees modest curtailments in China. The company didn't provide a watertight figure but estimates that China's annualized capacity cuts add up to 1.5 million metric tons on the lower end and 6 million metric tons on the higher end.
According to Rusal, citing SMM (Shanghai Metals Markets), ~1.8 million metric tons of "illegal operating capacity" and 2 million metric tons of under construction projects have been closed in China. The company expects China to cut another 2 million–3 million metric tons of capacity by the end of 2017.
Meanwhile, aluminum prices (RIO) have shown strength recently. In the next and final part of this series, we'll see whether prices can sustain their gains.