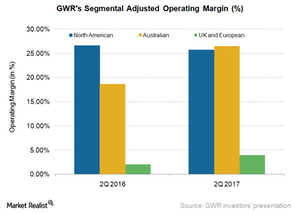 Inside Genesee & Wyoming's 2Q17 Operating Margins
By Samuel Prince

Updated
2Q17 operating margins
Let's take a look now at Genesee & Wyoming's (GWR) overall and segmental operating margins. In 2Q17, its operating margins expanded by 140 basis points, or 1.4%, to 18.8%. The margin was 17.4% in the same quarter last year.
The company's operating income rose 16.2%, or by $14.4 million to $101.3 million in 2Q17, from $87.2 million in 2Q16.
Article continues below advertisement
Segmental operating margins in 2Q17
In 2Q17, GWR's North American operations saw a ~1.0% contraction in adjusted operating margins to 25.7%. The segment's adjusted operating income almost remained unchanged in the same quarter year-over-year. It seems that the core pricing rise of 3.0% was negatively impacted by costs associated with the integration of an unfavorable business mix.
Adjusted operating margins in GWR's European operations rose 2.0% to 4.0% in the reported quarter. Segmental adjusted operating income rose $3.0 million in the same quarter due to the inclusion of two months of operations at Pentalver. If we exclude the impact of currency translations, the UK-European same railroad adjusted operating income rose $1.0 million.
In GWR's Australian operations, operating margins rose 7.8% in 2Q17. The company recorded 26.4% operating margins compared to 18.6% in the same quarter in 2016. Adjusted operating income for its Australian operations rose $10.0 million due to the GRail acquisition and stronger metallic ores and agricultural products.
Article continues below advertisement
Management outlook in 2017
Genesee & Wyoming anticipates 50.0% margins on incremental revenues in North America and Australia. It expects North American operating income of $88.0 million. It expects $24.0 million and $11.0 million, respectively, for its Australian and European operations. In 2017, GWR aims to achieve an operating margin of 25.0%, 27.0%, and 4.0% for its North American, Australian, and European operations, respectively.
Peer group operating margins
Since GWR is a non-Class I railroad with open-access operations across Europe and Australia, it has lower operating margins. The Canadian-born railroads normally have higher margins than their US peers. Let's take a look at the operating margins for GWR's peers in 2Q17 compared to 2Q16:
Investors interested in transportation sector stocks may want to opt for the iShares US Industrials (IYJ), which holds 5.9% in major US railroads.
In the next and final part of this series, we'll take a look at analysts' opinions on GWR and its peers.