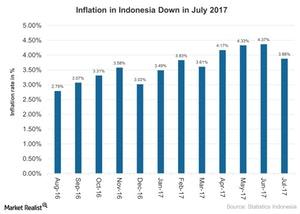 Inflation in Indonesia Fell in July: Is It a Correction or Trend?
Inflation in Indonesia
Consumer prices in Indonesia (IDX) rose 3.9% on a year-over-year basis in July 2017, following a 4.4% rise in June 2017. Economic growth in Indonesia isn't as strong as previously projected primarily due to a slowdown in consumption despite increased investments, according to the Central Bank of Indonesia. As a result, inflation expectations for 2017 are low due to weak demand and controllable food prices. Let's look at inflation in Indonesia in the below chart.
Article continues below advertisement
Inflation in July 2017
Inflation in Indonesia (EEM) in July 2017 stayed in line with the market expectation of 3.9%. Inflation in July 2017 was at the lowest rate since March 2017 as prices increased at a slower pace for raw food, transport, housing, clothing, and health as compared to the previous month. However, prices grew at a faster pace for both processed food and education as compared to last month.
The core consumer prices rose at a slower rate by 3.1% on a year-over-year basis as compared to a 3.1% rise in June 2017. The core inflation was at its lowest level since December 2016. The consumer prices on a monthly basis rose 0.22%, slower than the 0.69% rise a month earlier.
Monetary policy
The Central Bank of Indonesia (or ASEA) left its benchmark seven-day reverse repo rate steady at 4.8% on July 20, 2017, matching market expectations. The bank kept both the overnight deposit facility rate and the lending facility rate constant at 4% and 5.5%, respectively. The neutral policy measures are in line with the slow domestic economic recovery and the consumption slowdown despite increased investment in 2017.
Growth and investment in Indonesia
Indonesia's (VWO) economic activity is likely to benefit from inflation remaining within the target range and a lower interest rate in 2017. However, external factors including the Fed's tightening and normalization of the balance sheet are expected to create headwinds in 2017.
The iShares MSCI Indonesia ETF (EIDO), which tracks Indonesian equities, was down by about 1% in July 2017. So far in 2017, EIDO is up by about 11% as of August 1, 2017.
Let's look at the Indonesian manufacturing PMI in our next article.