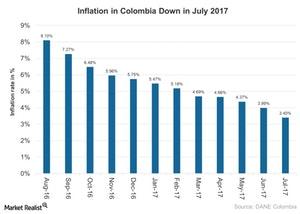 Inflation in Colombia Continues to Fall in July 2017
Inflation in Colombia
Consumer prices in Colombia (GXG) (EEM) rose 3.4% on a year-over-year basis in July 2017, lower than the 4.0% rise in June 2017. The slower pace of growth in most of the components of inflation resulted in more gradual rises in July 2017.
According to the Ministry of Finance in Colombia, the reduction in inflation in the country will help to increase purchasing power and thereby support the economic recovery in 2017. Inflation within the target range is expected to help push economic growth between 2% and 3% in 2017. Let's look at the inflationary trend over the last year in Colombia in the below chart.
Article continues below advertisement
Article continues below advertisement
Inflation in July 2017
Inflation in Colombia remained below market expectations of 3.6% in July 2017. July's inflation rate is the lowest since October of 2014. The prices slowed for housing, food, transportation, education, clothing and footwear, communications, and health. On the contrary, costs increased for recreation. The consumer prices on a monthly basis fell 0.05% in July 2017 as compared to a 0.11% increase in June 2017.
Easing monetary policy
The gradual reduction in food prices since 2Q16 has resulted in an overall slowdown in consumer prices as of July 2017. The downtrend in inflation over the last year has led to easing monetary policy to support economic activity in Colombia. The lower annual deviation in consumer prices and easing of monetary policy has further resulted in reduced inflationary expectations in Colombia (ILF) for 2017.
According to the Central Bank of Colombia, the lower interest rate is expected to help the inflation to converge to the target rate of 3% and to boost the economic activity in 2017. The central bank cut key interest rates by 25 basis points to 5.5% at its July 27 meeting. The rate cut followed the market expectation and left rates at the lowest level since November of 2015.
The Global X MSCI Colombia ETF (GXG), which tracks the Colombian equities, rose about 3% in July 2017. The commodities-dependent (USO) economy registered the gain in July 2017 as the oil prices rebounded in the same period. Brent oil prices (DBO) are up by about 10% in July 2017. So far in 2017, the GXG has risen about 8% as of August 8, 2017.