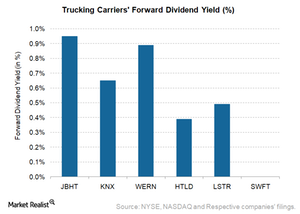 How Truckload Carriers Have Returned Cash to Investors in 2Q17
Dividend payments
Previously, we analyzed the capex of the six truckload carriers under discussion. Here, we'll look at their cash distribution in the form of dividends and buybacks.
Trucking is a fragmented, capital-intensive, and cyclical industry. Intense competition among the carriers normally requires them to reinvest a sizable chunk of earnings into the business. Dividends are usually higher when the immediate business prospects are dim. However, companies don't increase dividends if they perceive better near-term business growth.
Article continues below advertisement
The chart above shows that the dividend yields of the discussed truckload carriers are very low. Arizona-based Swift Transportation (SWFT) has a policy of not paying equity dividends. J.B. Hunt Transport Services (JBHT) has the highest dividend yield of ~1% in the discussed group. It raised its dividend per share to $0.23 in 2Q17 from $0.22 in 2Q16.
Werner Enterprises (WERN) follows JBHT with an ~0.9% dividend yield. The company raised its dividend by 16.7% to $0.07 per share in 2Q17 from $0.06 per share in 2Q16.
Knight Transportation (KNX) has a dividend yield of ~0.7%. The company's per share dividends remained constant at $0.06 in 2Q17 on a year-over-year basis. Landstar System (LSTR) has a dividend yield of 0.5%, while the dividend yield for Heartland Express (HTLD) is 0.4%.
Stock buybacks
With respect to stock buybacks, most of these carriers implemented share repurchases in 2016. However, Heartland Express, Landstar System, Knight Transportation, and Swift Transportation have abstained from stock buybacks in the first half of 2017. The only exception was J.B. Hunt Transport Services, which raised its share repurchases by $80.0 million in 1H17 compared with 2Q16.
ETF investments
Investors interested in the general transportation sector can consider investing in the iShares Global Industrials ETF (EXI). Major US airlines and railroads make up 6.6% and 4.3%, respectively, of EXI. Global parcel delivery companies such as United Parcel Service (UPS) and FedEx (FDX) together comprise 3.1% of the portfolio holdings of EXI.
In the next article, we'll discuss the July 2017 Truck Tonnage Index.