Erwinaze Sales May Remain Flat in 2017
Erwinaze saw net sales worth $49 million in 2Q17, almost flat compared to the drug's revenues of $50 million in 2Q16.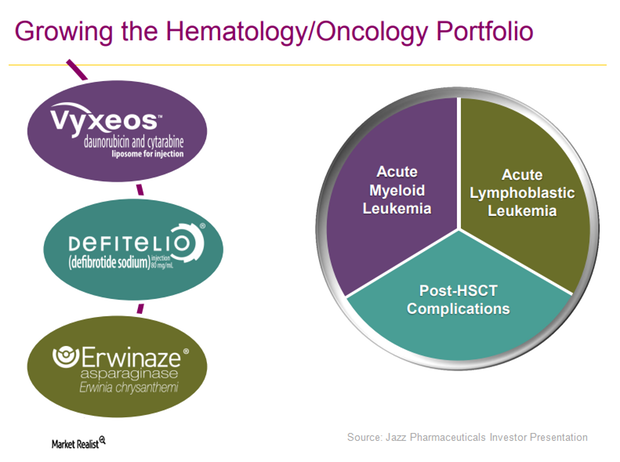 Erwinaze sales
Approved by the U.S. Food and Drug Administration (or FDA) as a part of chemotherapy for acute lymphoblastic leukemia (or ALL) patients with hypersensitivity to E.coli-derived asparaginase in November 2011, Jazz Pharmaceuticals' Erwinaze is expected to report revenues in the range of $205 million to $225 million in 2017.
Erwinaze saw net sales of $49 million in 2Q17, almost flat compared to the drug's revenues of $50 million in 2Q16. The slight year-over-year (or YoY) drop in the drug's revenues could be a result of supply-side disruptions on a global basis, a challenge that is expected to continue in 2017. Jazz Pharmaceuticals is uncertain about its ability to supply Erwinaze in certain international markets in 2017. If these supply-side challenges aren't resolved, it could have a negative impact on share prices of Jazz Pharmaceuticals as well as those of the Vanguard Mid-Cap ETF (VO). Jazz Pharmaceuticals makes up about 0.24% of VO's total portfolio holdings.
The above diagram shows Jazz Pharmaceuticals' hematology/oncology portfolio and the conditions targeted by the various drugs.
Article continues below advertisement
Article continues below advertisement
Warning letter from FDA
On January 25, 2017, it was announced that the UK-government-owned Porton Biopharma Limited received a warning letter from the FDA for frequent good manufacturing practice (or GMP) violations related to Jazz Pharmaceuticals' Erwinaze at its Salisbury facility. The FDA raised concerns regarding particulate matter found in Erwinaze as well as about Porton Biopharma aseptic manufacturing operations.
Porton Biopharma Limited has been striving to resolve these concerns. The company has also increased its staffing resources and manufacturing capacity to restore its supply. Jazz Pharmaceuticals planned to discuss this issue with the FDA in 3Q17 and expects supplies to revert back to normal levels by 2018.
To compete effectively with other ALL players such as Pfizer (PFE), Amgen (AMGN), and Shire (SHPG), Jazz Pharmaceuticals is focusing on PASylation and expression technology to develop effective and safe recombinant crisantaspase.
In the next article, we will explore growth prospects for Defitelio in greater detail.