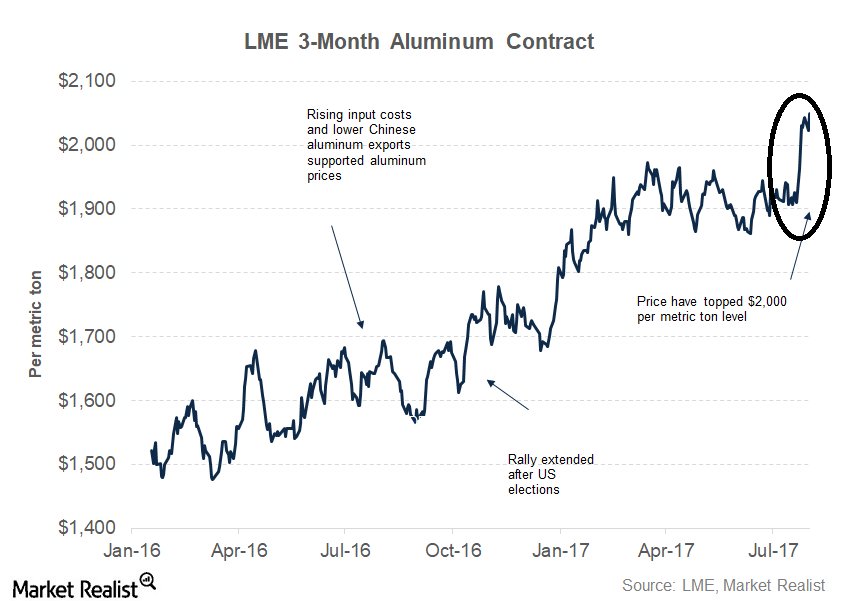 Aluminum Prices Defy Gravity and Maintain the $2,000 Level
Aluminum prices
Aluminum prices have been strong this year, and rising aluminum prices have boosted the stock prices of producers such as Alcoa (AA) and Century Aluminum (CENX). The lightweight metal has gained more than 22% so far in 2017. This trend was preceded by a 13.6% rise in 2016.
Aluminum prices have come a long way from 1Q16 when prices seemed set to breach $1,400 per metric ton. In this article, we'll look at the factors driving the recent uptrend in aluminum prices (DBC) (RIO).
Article continues below advertisement
Weaker US dollar
The US dollar has shown weakness, which has provided a positive impact on commodities (ACH). Because commodities such as aluminum are priced into the dollar, a weaker dollar bodes well for commodities. A weaker US dollar makes commodities like aluminum cheaper in other currencies.
China's metal demand, including steel and aluminum, has been better than expected in 2017. China's property market has been strong this year, which has supported metal demand. ArcelorMittal, the leading steelmaker, upwardly revised China's 2017 steel demand growth forecast by 200 basis points, primarily due to strong demand from the real estate and construction sectors.
China's supply-side reforms
China's supply-side reforms, under which it plans to cut down polluting and illegal industrial units, have been supporting aluminum prices. China has massive overcapacity in both aluminum and steel. China's overproduction has been flooding international markets for the last few years, pressuring steel and aluminum prices.
Because China's supply-side reforms are a key driver of aluminum prices, the country's aluminum production is an important factor in forecasting its prices. Continue reading to the next part for an analysis of China's aluminum production data.