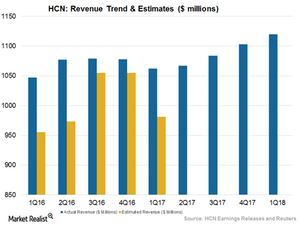 Will Welltower Maintain Its Business Momentum in the Future?
Strategic steps boost revenue
Welltower's (HCN) strategic presences in high-barrier and affluent markets help it to maintain its leadership in the healthcare infrastructure industry. Moreover, the company carries on several expansion and development activities to ensure its higher revenue.
The aging population and retiring baby boomers in the United States indicate that there will likely be rising demand for senior housing concepts by Welltower and other healthcare REITs (real estate investment trust) such as HCP (HCP), Healthcare Trust of America (HTA), and Ventas (VTR) in the future.
The Vanguard REIT ETF (VNQ), which holds almost 9% in Welltower and its peers, has a market cap–weighted index with a broad product portfolio covering industries such as healthcare, self-storage, and residential REITs.
Article continues below advertisement
Welltower boasts a rich history of maintaining solid top line growth, and this trend is expected to continue going forward. Although Welltower is expected to report a dip of 1% in its 2Q17 revenue, it's also expected to set itself on a growth trajectory and report revenue rises of 0.4%, 2.3%, 5.4%, and 6.9%, respectively, in 3Q17, 4Q17, 1Q18, and 2Q18.
Robust revenue growth in 1Q17
Welltower reported gross revenue of $1.06 billion in 1Q17, surpassing analysts' consensus estimate of $981.2 million by 8.3%. The company's results also came in higher than its previous year's results of $1.05 billion. The rise in HCN's gross revenue was backed by an 11.3% rise in its rental income. The growth in its revenue was also backed by a 4.1% rise in its RevPAR (revenue per available room) on a leap year–adjusted basis.
HCN's total same-store net operating income (or NOI) rose 2.2% during 1Q17, backed by a 3.5% rise in its seniors triple-net housing, a 3.4% rise in its post-acute care services, a 1% rise in its senior housing operations, and a 2.4% rise in its outpatient medical services.
Guidance for 2017
Welltower expects its revenue to be affected favorably by higher demand for healthcare facilities and its strategic revenue-boosting initiatives. Consistent development and redevelopment, the selection of advantageous locations, and expansion are some of the initiatives that are expected to help Welltower maintain its business momentum in the upcoming years.
The company expects average same-store NOI growth of 2%–3% in 2017. It also expects $2 billion in proceeds from its dispositions with a yield of 7.6% in the year.
In the next article, we'll take a look at how Welltower is able to maintain its share in the residential REIT industry.