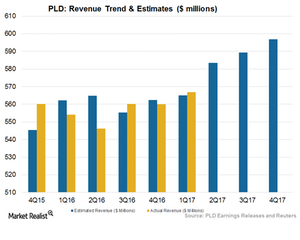 Will Prologis Ride High on Its Top Line in 2Q17?
Revenue in 2Q17
Analysts expect Prologis (PLD) to report revenue of $583.5 million for 2Q17 when it releases its earnings on July 18, 2017.
The 6.8% higher revenue expected by Wall Street is reflected in the higher deployment and implementation of several of the company's strategic initiatives in fiscal 2016 as well as fiscal 1Q17.
The company is expected to report revenue of $2.3 billion for fiscal 2017, which is a 4.0% rise year-over-year.
Article continues below advertisement
Location plays a key role in revenue growth
Prologis has positioned its properties in key areas that are closest to the busiest business centers. There's a secular shift of preference among REITs to shift their locations to Class A cities with the highest demands. These locations offer proximity to seaports, airports, railway stations, and highways.
Drivers of revenue growth in 2Q17
Prologis leased more than 39.0 million square feet of space in 1Q17. The figure was slightly lower than the year-ago results since the company was running out of space to lease. That signifies that demand for properties outpaced supply. The additional leased space is expected to contribute to higher revenue in 2Q17.
Further global occupancy also increased in 1Q17, which is expected to drive revenue growth in 2Q17.
Article continues below advertisement
The two contributors to Prologis's revenue are real estate operations (comprised of rental operations and development) and strategic capital. They're expected to witness a year-over-year rise in the second quarter. The upswing is expected to boost the company's consistent development and redevelopment activities as well as additional leasing operations.
1Q17 was a strong start to 2017
Prologis's revenue rose 3.8% in 1Q17, driven by growth in both rental and strategic capital. The net effective rent change on rollovers was 19.6%, led by a healthy rent change of 29.2% in the United States. The global occupancy level expanded 50 basis points to 96.6%, backed by a gain of 180 basis points in Europe.
Wall Street expects Prologis's close competitors such as Duke Realty (DRE), Kilroy Realty (KRC), and Boston Properties (BXP) to report revenues of $147.8 million, $157.6 million, and $639.0 million, respectively.
Prologis and its peers together constitute 14.1% of the iShares Cohen & Steers REIT (ICF). ICF's wide product diversity allows investors a cushion against macro headwinds.