Will Colombia's Economic Growth Pick Up in 2Q17?
1Q17 economic growth in Colombia (ICOL) remained below market expectations.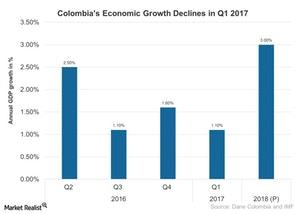 Colombian economy
The Colombian (GXG) economy has been struggling to tackle the political instability that has resulted from the insurgence of the Revolutionary Armed Forces of Colombia (or FARC) and similar groups for more than a decade. However, the recent peace agreement, which was signed last August between FARC and the Colombian government, has turned a new page in this region.
Many believe that this positive development will favorably impact economic growth in Colombia in the coming years due to reduced instability. In the most recent quarter, Colombia's GDP rose 1.1% year-over-year in 1Q17, lower than the 1.6% growth in the previous quarter. Let's look at Colombia's GDP growth in 1Q17 as updated on May 19, 2017, in the below chart.
Article continues below advertisement
Article continues below advertisement
Economic growth in 1Q17
1Q17 economic growth in Colombia (ICOL) remained below market expectations. The output fell in some sectors including trade, repairs, hotels and restaurants, transport, communication, mining, construction, and utilities. The growth slowed in finance, insurance, real estate activities, and manufacturing. However, the agriculture, hunting, forestry, and fishing sectors advanced sharply in 1Q17. The recent tax reforms seem to have affected economic activity in 1Q17.
The Colombian economy has been struggling with fiscal issues related to tax administration, resulting in lower government revenues over the last few decades. The government recently initiated tax reforms that affected household spending in 1Q17. Consumer spending dropped slightly to 88,182 billion Colombian pesos in 1Q17 from 88,479 billion Colombian pesos in 4Q16. As a result, most sectors registered declines in activity in 1Q17.
Expectations
According to the IMF report on May 31, 2017, the implementation of a peace agreement in the Colombian conflict is expected to foster infrastructure development and basic services. The economic growth is expected to be at 2.3% and 3% for 2017 and 2018, respectively.
The Central Bank of Colombia (EEM) has reduced its economic growth expectations due to the tax reforms, which are likely to impact economic activity in the next few quarters. The central bank expects to see economic growth in this Latin American (ILF) economy in the range of 2.0% to 1.8% for 2017.
Let's look at the inflationary trend in the Colombian economy in the next article.