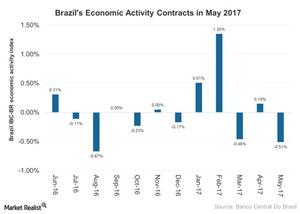 Will Brazil's Economic Activity Keep Contracting amid Political Chaos?
By Mary Sadler

Jul. 18 2017, Published 5:40 p.m. ET
Brazil economy
Article continues below advertisement
Economic activity index in May 2017
The economic activity index of the Central Bank of Brazil stood at 133.77, compared with 134.46 in May 2017. Economic activity in May 2017 was below the 0.15% rise in April and the market expectation of a 0.5% gain in May.
Levels in May 2017 indicate the biggest contraction in economic activity since August 2016. The supply-side growth we saw in agricultural produce in 1Q17 is expected to have slowed down in 2Q17.
Political chaos
Brazil's (BZQ) economic activity advanced in the first few months of 2017, mainly due to improvements in the manufacturing sector, exports, and business confidence. But Brazil President Michel Temer has been implicated in several corruption charges since March 2017 and is making the nation's political situation highly unstable (FBZ).
The recent addition to Temer's corruption charges includes a bribe taken JBS, a meat company. To top it off, former Brazil President Luiz Inácio Lula da Silva was sentenced to ten years in jail for criminal activity on July 13, 2017.
The alleged involvement of Temer in corruption is expected to delay pension and labor reforms in Brazil (EEM) in 2017. Amid disappointing political developments, economic growth in Brazil seems to have taken a hit while economic activity dropped in May.
Article continues below advertisement
Symbolic victory for President Temer
Recently, Brazil's congressional committee rejected the recommendation of a court trial for President Temer's corruption charges, but the final decision won't come out until August 2. The decision requires the permission of two-thirds of the lower house of Brazil's Congress to open trial against a sitting president.
Investments
Meanwhile, the crackdowns on political scandals in Brazil lately seem to have positively impacted markets so far in July. The Brazilian benchmark index, BOVESPA, has gained 4% so far this month, while the iShares MSCI Brazil Capped (EWZ), which tracks Brazilian equities, has gained ~8% as of July 17.