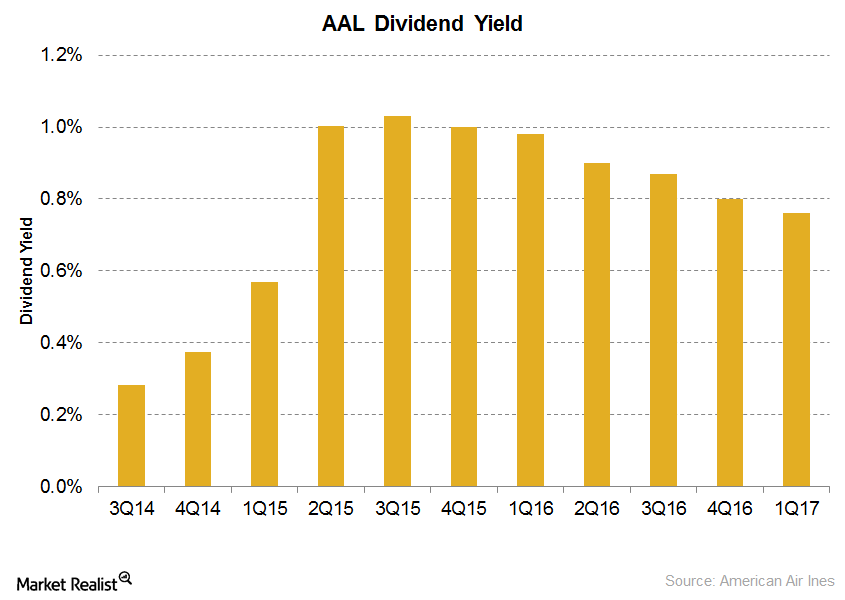 Will American Airlines Increase Its Dividend Payout?
Dividends
American Airlines (AAL) started paying dividends in mid-2014. Other airlines that pay dividends include Delta Airlines (DAL), Southwest Airlines (LUV), and Alaska Air Group (ALK).
Most airlines refrain from paying dividends due to the cyclical nature of the industry. American Airlines seems to be the odd player out among the four dividend-paying carriers. The remaining three airlines have well-managed operations and robust balance sheets.
The fact that crude oil prices have fallen more than 60% has led to a huge fall in fuel costs, making American Airlines profitable in the process and making it possible for the company to pay dividends.
Article continues below advertisement
Dividend yield
American Airlines has a current dividend yield of 0.76%, lower than Alaska Air Group's dividend yield of 1.3% and Delta's dividend yield of 2.0%. Southwest currently has the lowest dividend yield of 0.67%.
A 17.4 cash dividend ratio indicates American Airlines' ability to sustain dividend payouts in the future. A ratio of less than 1 indicates that a company's dividend payouts are higher than its cash flows, which may be difficult to sustain.
Outlook
American Airlines' high leverage clouds its ability to consistently pay dividends. However, AAL's dividend payout is extremely small.
The airline's management has realized the need to pare down its leverage. For this reason, though AAL may continue to return capital to its shareholders, investors shouldn't expect any growth in its dividend payouts. AAL could continue with its $0.1 dividend per share for the foreseeable future.
Investors can gain exposure to American Airlines by investing in the First Trust NASDAQ-100 Ex-Technology Sector Index ETF (QQXT), which invests 1.7% of its portfolio in AAL. Continue to the next article to learn about American Airlines' current valuation.