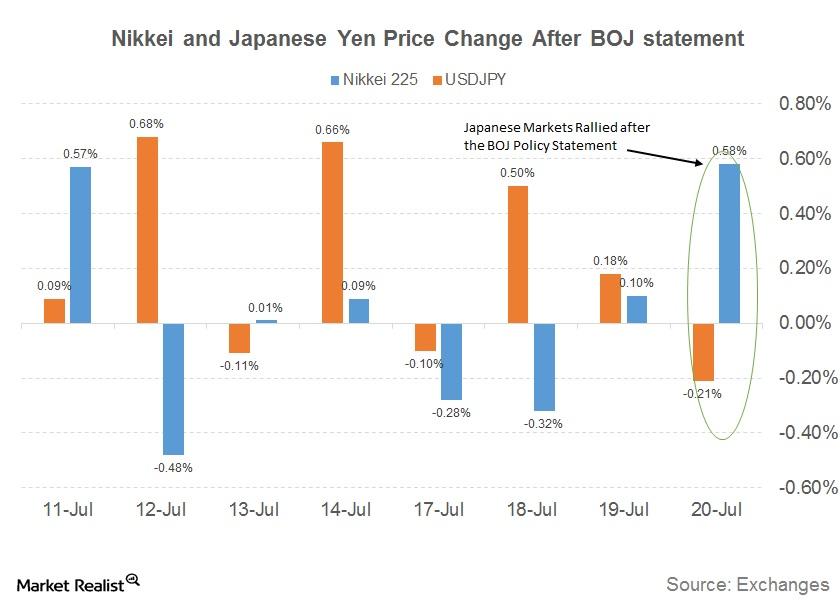 Why Japanese Markets Surged after the Bank of Japan's Inaction
New securities added to the quantitative easing program
In its monetary policy statement on July 20, 2017, the Bank of Japan reported that it had left interest rates unchanged at -0.1%. The bank also left its asset buying program intact at an annual pace of 80 trillion Japanese yen.
In the policy meeting, the bank's members voted in favor of purchasing ETFs and Japanese REITs (real estate investment trust). The amount of ETFs and J-REIT holdings at the central bank are expected to rise at an annual pace of 6 trillion yen and 90 billion yen, respectively.
Article continues below advertisement
Article continues below advertisement
Nikkei extended its gains
After the policy announcement from the Bank of Japan, the Japanese markets (DXJ) rallied for two reasons, one being the positive global sentiment and the other being the weakness in the yen.
Most of the companies listed on the Nikkei 225 Index (EWJ) get their revenues from exports, and a weaker yen is considered to be beneficial for this purpose. The Nikkei surged 0.58% on July 20, and the yen (FXY) fell 0.24% against the US dollar (UUP).
Yen remains sold
The yen (YCS) remains sold against the US dollar (USDU) following the Bank of Japan's dovish policy statement. A weaker projection of inflation growth has led the markets to believe that the Bank of Japan's expansive monetary policy is likely to continue, at least until 2019.
The Bank of Japan is the only major central bank that's continuing to signal a continued stimulus as the US, UK, and EU central banks prepare to exit their respective stimulus programs. The yen is likely to depreciate further in the current scenario barring any negative surprise from the markets, which would increase its demand as a safe-haven asset.